The other day, I was waiting for a train or a plane, flipping through magazines at a newsstand. I picked up the August copy of Food & Wine and saw Ray Isle's fun, simple graphic suggesting changing white wines as the weather heats up.
Since I wrote a whole book centered on pairing wine with the seasons, I applaud all outdoor-temperature related pairings, which add more of the context of consumption. Generally, as the temperature rises, I prefer wines with leaner structure and lower price tags; here's how I sliced up this summer more or less. It feels wrong to exclude fun wines such as Muscadet, riesling (!), assyrtiko, albarino or txakolina but there's always next year–and raising a glass to parsimony.
Heat: 60°. Chenin Blanc
Layered and rich, a good example will turn heads.
Try: Domaine Huet, any of the 2007s or 08s, which start around $25.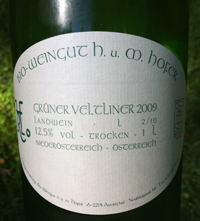 Heat: 70°. Godello
Excellent mineral qualities combine with richness in this grape indigenous to northern Spain.
Try: Benaza, godello, 2008, $13
Heat: 80°. Gruner Veltliner
Gruner Veltliner of Austria is clean and refreshing, the uncola. No caffeine, never had it, never will.
Value: Berger, 2009 one liter $12, now with a crown (beer) cap
Heat: 90°. Vinho verde
Vinho verde is cheap, low in alcohol and gulpable.
Try: Aveleda Fonte, 2009 at $6
Heat: 100°. beer
Beat the heat and try a local lager or a Kolsch. I had an excellent one from Captain Lawrence Brewing Co ($12.50 for a growler).
Heat: 110°. Get some AC
And sparkling water.
How have you sliced up your summer whites?