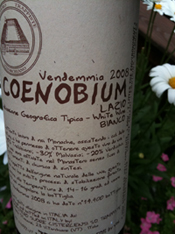 "Pass some more of the nun wine."
I overheard someone say that at the other end of my table recently. Not Blue Nun, mind you. But a wine actually made by nuns!
Since the Trappist monks in Belgium still make (and market) Chimay beer, I was pleased to discover that Trappist (Cistercian) nuns still make wine in Lazio, a little to the north of Rome.
The wine in question, Coenobium from the Monastero Suore Cistercensi, is a blend of Trebbiano, Malvasia, and Verdicchio. If you're looking for a fresh, breezy, fruity, summer quaffer, look to other wines. This white has an oxidative quality that blankets layers of minerals, faint nuttiness, and acidity. The reason these grapes produce such complexity is in large part because the consultant winemaker, the acclaimed naturalista Giampiero Bea, has left the wine in contact with the skins, unusual for a white. They actually make another wine with even longer skin contact called "Rusticum."
It's a wine of contemplation that I happened to serve on my deck on a cool summer evening, a context that I think made it more appealing than on a searing hot day.
To finish off our unofficial women and wine week, here's a picture of the nuns in the vineyards with Giampiero Bea.