Hi, soon visiting New York for a wedding, my wife and I intend to do some NY touristing. Drinking good Italian wine I can do in Italy or in my home country (Sweden), but where to find a good selection of reasonably priced US wines in NY? -Johan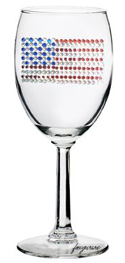 Interesting question! I assume Johan would be interested in a bar to drop into before or after his wedding festivities on an evening. New York City wine bars are dominated by lists that focus mostly or entirely on Italian wines; an emphasis on French wines is probably second. But since the demise of Vintage New York, which focused exclusively on wines of New York, nowhere really leaps out to me as having a preponderance of American wines. This may have to do with the fact that it is hard to find tasty American wines that retail for under $12 a bottle, thus putting them at a disadvantage in a restaurant situation with higher markups.
However, it is possible to put together a flight of American wines at a few places. Terroir Tribeca has five American wines available by the glass, with the small sizes all under $8, including a trio of New York State Rieslings. There are certainly better options at some restaurants that aren't wine bars per se but have some bar areas; Gramercy Tavern is one possibility. But perhaps the best bar-bar for this type of request is Morell, which not only has several wine domestic reds and whites available by the glass, but affords possible celebrity viewing at Rockefeller Plaza.
What's your theory as to why finding abundant American wines by the glass at NYC wine bars is such a challenge? And what are your suggestions for Johan?