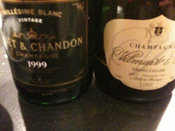 If you were invited to a sumptuous dinner at your friend's boss' house and had to bring the bubbly, would you bring a grower champagne or a better-known label?
That was a question I confronted head-on last week. Grower champagnes are a great story, since the wines are made in limited quantities by those who grow the grapes, not the norm in the region. But in the glass, they can be off-putting to mainstream drinkers since a trend in grower champagnes is to have low or no dosage, a jigger sweetness added before bottling. This can make the wines unbalanced and searingly acidic–or electric, vital and food-friendly, depending on the wine and where your tastes fall on the hipster axis. Further, grower champagnes lack the widespread name recognition of some of the big labels so some hosts may discount the unknown. Not to be superficial…but champagne is among the most brand-centered of all wine categories.
Would this gathering of non-hipsters appreciate the merits of good grower champagne in the glass and not miss a well-known label? I thought yes, given that they were wine enthusiasts, but I also thought they could find out for themselves.
So I brought two Champagnes and poured them blind. In the grower corner, I poured the Vilmart Grand Cellier, a multivintage wine (but based on 2006), a blend of 70 percent chardonnay and 30 percent pinot noir, all organically farmed on the 26 acres. After some deliberation in the aisles of Astor Wines, I opted for the Vilmart since it has a small dosage and is barrel-aged, for a bit more richness, perhaps better for an aperitif and for going against a grande marque. I also poured the 1999 Moët & Chandon Millésime blanc, perhaps not the best comparison given the age discrepancy, but it I figured it to be a reasonable effort form the bigger name.
The Vilmart was lithe with complex aromatics, good acidity (but not off-putting!) and a lovely arc. The Moët was more rich, round and certainly more mature and relied on weight than on subtlety. Everyone recognized them as quite different wines. More than one person in the group suggested they would be good for different occasions, such as with food or as an aperitif. I polled the group before revealing: four preferred the Vilmart while two preferred the Moët (with two not stating a preference). Everyone enjoyed the comparison. So maybe the moral of the story is to simply bring two bottles.