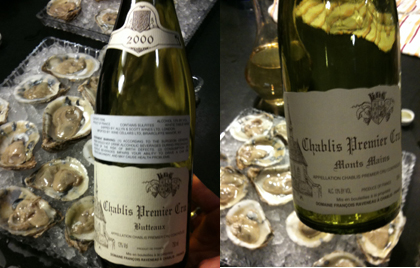 Tasting the legendary Chablis from Domaine Francois Raveneau is a rare event since the wines are almost impossible to find (search for Raveneau). And tasting them with some age and oysters hardly ever happens outside of Chablis and the Hamptons.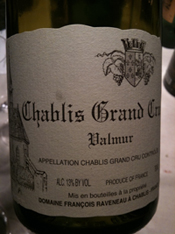 But I managed to try oysters with three Raveneau wines at a collector's house recently, thanks to an invitation from a friend (I brought the Champagne, as we already discussed). Since I didn't have my tasting notebook with me, I don't have much in the way of tasting notes to offer you but I do have cameraphone photos!
The 2000 Butteaux, a premier cru site, had a golden hue and an amazing balance between precise, alluring acidity, stoniness, and the gentle breadth that old wood aging provides. With a lasting, layered finish, this wine got the evening off to an excellent start. The 2000 Mont Mains was also impressive, but it had a slight oxidative note. The 1998 Valmur, a grand cru site, was not oxidative but not showing the delicious precision of the 2000 Butteaux, which was really en feu that evening.
The wines were terrific with the oysters; sometimes those classic food-wine pairings got that way for a reason.