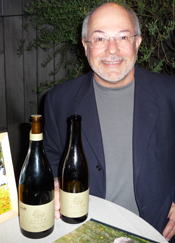 Tony Soter shed some unnecessary weight from one year to the next–in his bottles.
The Oregon vintner shipped his 2007 Pinot Noirs in bottles weighing 900g, more than the 750g of wine in the bottle. But for his 2008s, which are being released soon, the bottles will weigh 600g (both bottles, pictured right). Needless to say, the reduced packaging mass greatly reduces the carbon footprint of the wine.
"The time has passed that you can try to impress people with the substance of the bottle as opposed to what is in the bottle," he said.
He also thought it odd to import tons of empty glass bottles from France, so started sourcing his bottles locally. One new facility near Portland is getting underway making recycled glass from hydro-electric power. Currently, he is sourcing the glass from Seattle. Other vintners in the area are also taking steps to make their bottles more lightweight, he said.
Here at the Dr. Vino World Headquarters, we raise an ultralight crystal stem of Willamette Valley Pinot Noir in their honor!