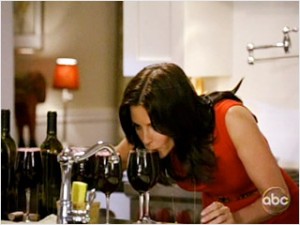 Last week we heard about baboons who give Chardonnay a thumbs up. This week we learn that cougars like Merlot!
If they are on ABC's Cougar Town, that is. Also, pouring wine should be done to the rim, apparently.
Of note: Sheryl Crow played a sales rep at wine distributor in Wednesday night's episode. As SlateWine quipped on Twitter, "Does this mean she supports three-tier system? Say it ain't so, Ms. Crow." Couldn't she bring her glamor to another part of the wine biz, such as an independent shop owner? The cougars have to buy their Merlot from somewhere, after all.