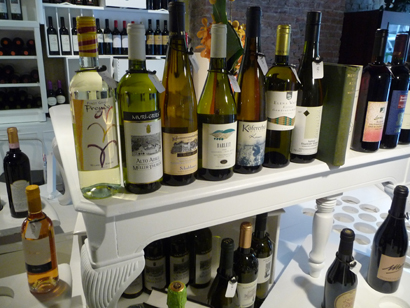 Eric Asimov has a long piece in today's NYT about small wine shops. He highlights a number of local, independent shops mostly around New York City. If you are familiar with our map of NYC wine shops, then you knew about virtually every store in his story already! I'd also highlight Le Vigne, which is a good, new shop that didn't get mentioned. I've also recently discovered UVA Wines in Brooklyn, which has an excellent selection of wines from the Loire and Burgundy. Thirst Merchants in Fort Greene also merits a shout-out since they have a lot of the hard-to-find wines from the portfolio of importer Kermit Lynch. Hit the comments with faves in your area.
I love a good, small wine shop. When people ask me to recommend a wine, I often tell them that the best practical advice I can give them is to find a great, small shop near them.
To be great, in my view, the small shop must have an interesting selection. Not huge, but well-curated, which can mean having off-the-beaten path selections or a certain specialization, be it a regional focus or from an astute distributor or importer.
The best small shops also have excellent service, with at least one staffer who is knowledgeable (and being nice is a plus, too). If the staff makes good suggestions and even remembers a customer's likes and dislikes, then that is terrific. Staff-written shelf talkers, if any, can add character. Adding tastings or other community aspects are a tremendous service too. And mixed cases (or three packs or six packs) selected by the staff can be great for introducing consumers to new wines.
One place where small wine shops can disappoint is on price. Granted, these shops don't treat wine as a commodity and aren't seeking a low-price, high-volume business model. But unless they aspire to only serving a three-block radius of lazy, oblivious and/or wealthy customers, they should really not charge more than the full, 50% markup above wholesale cost. If they do, they are firing the very customers they seek to educate and bring into the wine-loving fold. To give but one example: the La Gitana manzanilla sherry makes for a refreshing aperitif and if you poke around, you can find it in NYC for $9.99. But I saw it in a neighborhood shop recently for $18. One small shop owner recently told me that he wanted his customers to come to his shop for all their wine needs. But charging significantly over the price of other shops might tax the loyalties of even the most dedicated customers.
Hopefully, the best of these neighborhood shops at least offer mixed case discounts or loyalty programs so that the regulars don't have to pay the full, chump premium. That way, knowledgeable shoppers can have their sherry wine cake and eat it too.
Let's raise a glass to the best of these innovative, tireless, enthusiastic wine shop curators!
"New Wine Shops in New York Put Patrons at Ease" NYT
"Frankly Wine's Christy Frank – NY wine shops – a 2,400 part series"