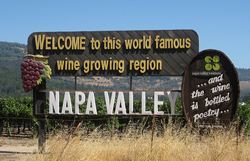 SPIT: good times
Hard to tell which phrase would strike more fear in the heart of Napa: finances that are "very weak" or "on life support." Even foreclosure has been the fate of 10 vineyards in the valley that once was called "Eden." But probably the scariest phrase is this: "High-rollers are discovering that there are lots of drinkable $20 to $40 bottles of wine." ["Vineyard Defaults Surge as Bargain Wines Hurt Napa"Bloomberg]
SIPPED: gilding the lily
Ah, spring is in the air. And with it come California winery newsletters offering their wines for $74 a case–just the shipping, that is.
SPIT: California values
The Bay Area NYT is the latest to ponder the question of why are there so few tasty value wines from California.
SIPPED: Buffett's billions
Warren Buffett is getting into the wine biz. Not as a producer, but as a distributor. Through his subsidiary McLane, Berkshire Hathaway is buying the Georgia wine and spirits distributor, Empire, reports Wine & Spirits Daily. I guess Buffett knows where the profits are in wine.
SIPPED: spurious variable?
Wine drinking women don't get fat! But is it wine consumption that explains the slower weight loss among women in a study? Not necessarily. [Globe and Mail]
SIPPED: subway reading
A twenty-something male in office clothes was spotted reading Wine Politics on the F train! Good thing it wasn't on Kindle or the Cover Spies wouldn't have known! [CoverSpy]