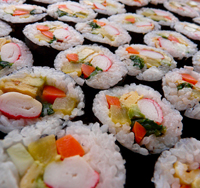 Not intimidated by the Herculean challenge of pairing wine and Korean food, I selected a range of wines for a Korean new year feast last week.
The "impossibility" of the pairing centers on two things: 1) kimchi and spices and 2) a culture clash that came up in our previous discussion about whether wine (and alcohol) should be seen as a complement to the food or as a "palate cleanser," a role that the high-octane soju often performs at Korean feasts.
Playing sommelier for the evening, I selected a range of wines including bubblies, aromatic whites, and some reds. The actual selection is often limited by the practical consideration of which wines you can actually find in your market. I chose the wines from Garnet Wine & Liquors, a store near the residence of the repast. Here's a copy of the order: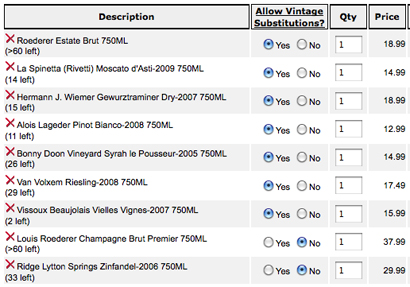 Unfortunately, we didn't get a chance to try all the wines (there were only 14 people). We started off with the two bubblies, both from Roederer but one from California's Anderson Valley and the other from Champagne, as a way to highlight the differences between the two regions. Paired with the dumplings, they both were good and popular but I preferred the cut of the Champagne. It also worked well with the jeon later in the meal, I found.
Moving to the table, we had a smorgasbord of Korean delights. I poured the aromatic whites and the Hermann J. Wiemer pleasantly surprised people who were programmed not to like either gewurztraminer or New York wines. The Van Volxem riesling fro the Saar was a big hit. I also brought a Lucien Crochet Sancerre to try the acid/mineral pairing and although the wine itself was good enough, it kind of bombed with the food (I should have tried it with the kimbap though).
The fruit and acidity of Pierre Chermette Beaujolais Vielles Vignes worked well. By the time the grilled beef bulgoki came out, so did Bonny Doon Le Pousseur syrah and the Ridge Lytton Springs zinfandel. I had chosen these on the "palate cleanser" end of things but the syrah seemed overshadowed while the zin was impressive and quite popular. In the end, I even tried a soju and it wasn't as frightening as I had feared!
Thanks to some suggestions on the previous thread, our hosts even had some delicate white kimchi (baek), which was quite delicious on its own. I think I had already had the soju at this point so forgot to pair with wine…
Anyway, Korean food may have some challenges for wine pairing but they can be overcome! We had fun and I look forward to more experimenting of this kind in the future. Give it a try because even if you are a wine geek who still feels it is impossible, then there's always the fallback: drink first, eat later.