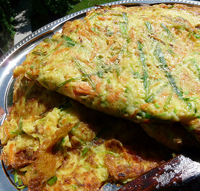 Tomorrow night I will be selecting the wine pairings for a Korean feast, getting in on the lunar new year action a few days late. Here's a list of some items on the menu, from the hostess:
Fried dumplings
Chicken yakitori [japanese inspiration]
Beef skewers (do you know bulgoki?)
Squid/spicy sauce
A variety of "jun" (pictured, right) which is something like potato pancakes but with fish, beef, vegetables, or seafood
California roll or "kimbap" which is rolled "maki" with veggies/beef
Side vegetables – pickled, salad-like
Apparently it is impossible to pair Korean food with wine! And I'm not just saying that. Consider this comment from sommelier-to-the-max, Rajat Parr (from What to Drink with What you Eat): "I love Korean food, but it's hard to have any kind of wine with it unless you have a Vinho Verde or something that's really high in acid…the acidity in kimchee just kills wine and it's all over."
What do you think: do you buy the high acidity suggestion? Or do you prefer something aromatic and off-dry? How about bubbles? Or something slightly oxidative? Do reds work? Or is pairing Korean food with wine impossible!?!
Related: "Kimchi: impossible food-wine pairing?"