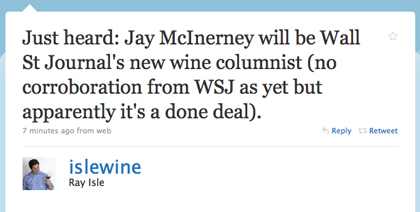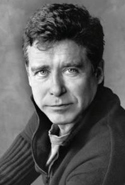 Jay McInerney, author of Bright Lights, Big City among other works of fiction, has been named WSJ wine columnist according to a tweet from Ray Isle, wine editor of Food & Wine magazine.
McInerney wrote a monthly wine column at House & Garden until Condé Nast shuttered the magazine in 2007. His columns were compiled in two books, Bacchus & Me (amazon, aff) and The Hedonist in the Cellar (amazon, aff). So here's one wine writer who was able to find a job again!
In 2006, he married Anne Hearst. With that kind of financial fusion, perhaps he will buy his own wine instead of the Journal picking up the tab?
McInerney will replace John Brecher and Dorothy Gaiter who ended twelve years as wine columnists in December. Their popular column had a populist slant, periodically reviewing white zinfandel, wine on cruise ships, at Disney World and their annual, participatory "open that bottle night." By contrast, McInerney, whose punchy column ended before the recession took hold, frequently wrote about fine and collectible wines.