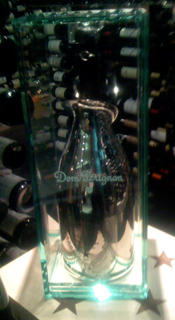 The Wall Street Journal formally introduced their new duo of wine columnists, Jay McInerney and Lettie Teague, on Saturday (even though rumors had been flying on the internets for months). They replace John Brecher and Dorothy Gaiter who left the paper in December after writing the column for 12 years.
McInerney files his first column and it is about Prosecco rosé Champagne. Not only does it contain a sidebar with $635 of wine recommendations, but the piece also compares Dom Pérignon to both the Porsche 911 Carrera and the 911 turbo! There's talk of maxing out credit cards to buy bubbly! The piece also justifies the price of one bubbly by comparing it to the tasting menu at Joël Robuchon in Las Vegas! The only place he really leaves the reader hanging is whether the pink bubblies taste better out of a white gold encrusted Jeroboam.
He has met Hugh Hefner, natch. And he just saw "mature" Julianne Moore on the street and the rosé Champagne made him think of her again!
In February, we noted that McInerney's punchy House & Garden column had a predilection for bling and wondered whether it would keep up in the leaner times of 2010. But the reader could be justified in thinking that he is the only person in America unfazed by the recession. What's the Dom Pérignon in a Prius analogy instead of Porsches? And what's the conversion rate of Joël Robuchon in Vegas to Shake Shack? If the WSJ editors wanted wealth porn, they got it! At least so far. It will be interesting to see if he eases his Ferragamo loafer off of the throttle in future columns.
What do you think, will this play in Peoria in 2010?