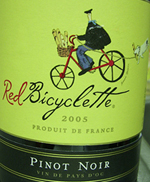 A French court found 12 executives guilty of selling the equivalent of 18 million bottles of cheaper wine as pinot noir. The buyer was California's E&J Gallo for their Red Bicyclette brand, which sells for about $9 a bottle.
AFP reports that generic red wines fetched 45 euros (about $62) per one hundred liters while the premium pinot noir fetched 97 euros. One of the firms involved had been paying 58 euros for the wines it sold to Gallo. The accused made seven million euros ($9.5 million) in the scheme.
The defendants, from two firms, received suspended jail sentences and fines between 3,000 and 45,000 euros. Reuters reports that one firm, Sieur D'Arques, had to pay a fine of 180,000 euros.
Gallo issued a statement saying that they were "deeply disappointed" to learn of the fraud at one of their suppliers. The statement continued: "We believe that the only French Pinot Noir that was potentially misrepresented to us would have been the 2006 vintage and prior." They also added that there was no health risk and that they would be withdrawing the wine from the market.
On the Red Bicyclette website, they tout the pinot noir as "world acclaimed" and point out that the 2006 vintage received a score of 83 points from Wine Spectator and the 2005 received various medals at wine competitions, including a bronze San Francisco International Wine Competition and a silver at both the Taster's Guild International Wine Competition and Finger Lakes International Wine Competition.
"If Americans lose confidence in French wine production, particularly the Languedoc region, which is already going through a serious crisis, the consequences could be terrible," Francis Battut, the prosecutor, told AFP.
A lawyer for one defendant told AFP "Not a single American consumer complained." Another defense lawyer said that the wine had delivered "Pinot Noir characteristics." On Marketplace Morning Report this morning, a commentator said that consumers don't even know what pinot noir tastes like.
But it hardly seems like consumers' fault. Does $9 pinot really taste like pinot noir? It's worth noting that federal regulations allow blending of up to 25 percent other varieties into a wine labeled by its grape variety.
What does this faux pinot ruling mean for you? What with counterfeits on the high end and Brunello blending, rule-breaking and fraud seem to be making the rounds in the wine world.