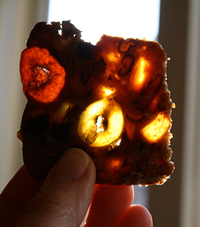 Writing on Slate.com, Sara Dickerman wonders why fruitcake remains so unpopular. She points out that it's rare among cakes to be aged (intentionally), aided by boozy fortification. And then she throws down the oven mitt with this challenge:
They are heavy, indeed, but that is OK: Fruitcake looks best in thinly sliced cross sections. [See image at right from Slate.com–ed.] Studded with fruit and nuts, it reminds me of salami's piebald patterns of fat and peppercorns. Like salami, too, I think fruitcake tastes swell alongside slivers of nice old cheddar or parmesan. In, fact, I'd argue that fruitcake, with its aging and its complexity, is essentially the charcuterie of the baking world. If that's not a way to get some traction among today's foodies, I don't know what is.
Oooh, charcuterie! Well, we should be able to pair that with wine–except for the rum, apricots, golden raisins, kalamata figs, coconut, and dates. So which wine with you pair with fruitcake? Or is it impossible?!?
Related: Goodbye Wassail, Hello Christmas Smoking Bishop