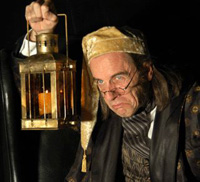 The Ghost of my Christmas Past is wassail. A warm drink of mulled red wine, with some juice, warm beer, and who knows what else from the spice cabinet tossed in, it's the sort of drink that dampens the Christmas spirit as you have to struggle to make it through one cup.
But I like the idea of a warm punch on a wintry day. This year, I'll relieve my parents of the years of wassail duty and introduce a new drink for my extended family, one that actually sounds delicious: Christmas smoking Bishop.
The drink dates to 18th century London and featured at as a crucial symbol in A Christmas Carol. When Scrooge was transformed for the good, the final act of his redemption was to take his ladle in hand and offer up some of the Bishop.
According to the recipe in How's Your Drink, by Eric Felten, you'll need a good bottle of ruby port, two lemons, cloves, and some mulling spices. Stud the lemons with the cloves and roast them whole in the oven until they are browned. Then slice them in half and put them in a half pint of water with the mulling spices and reduce half way. Add the port and steep for an hour just below simmer. Add sugar at your discretion.
Traditionally, the punch bowl was set alight but Felten writes that "port catches fire about as easily as soggy kindling…I say put away the matches and grab the ladle."
Sounds like good advice to me.
On a related note, Saul M, Mark Marino and SPAZZNiBLET were chosen at random as winners in the How's Your Drink giveaway.