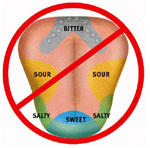 A great piece of wine writing has just become accessible: oddly, with the closing of Gourmet magazine, Gourmet.com has made the classic article "Shattered Myths" available for free.
Written by NPR contributor Daniel Zwerdling back in 2004, the story starts at a tasting with Riedel stemware, which the attendees loved and bought $1,000 worth of the crystal afterward. Then the author reviews some scientific studies about taste and olfactory analysis of wine in different vessels, which clashed with the what he had seen at the Riedel demonstration. So the author put the question to Georg Riedel. Click through to see Riedel's reply.
The article then turns to a fascinating and important discussion about perceptions and wine, much of which we have discussed since 2004 in various ways here and elsewhere. The now-available article is an oldie but a goodie and well worth the read if you haven't already seen it.
Related: "Shattered Myths" [Gourmet]
"Varietal stemware: genius or hucksterism?"
"The Tongue Map: Tasteless Myth Debunked" [LiveScience]
"Wine's Pleasures: Are They All in Your Head?" [NYT]