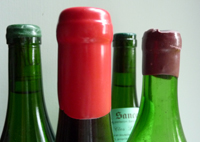 The other day we talked about "embarrassing moments in bottle opening." Be sure to check out the stories for some good laughs.
But one commenter who wasn't laughing was Paul Gregutt, wine columnist for the Seattle Times. He had this to say:
there's little doubt that the most difficult cork pulling experiences in my life come when someone has slathered their weapon-grade wine bottle with a pound or two of faux wax. You need a chainsaw to drill through some of these things. It is not helpful to embark on what is supposed to be a thoughtful review of someone's wine with blood all over the corkscrew, the bottle, the glass and the writer. Perhaps you will join me in an effort to dissuade wineries from using this stuff?
I've enjoyed quite a few wines–from Lapierre, Foillard, Vatan, and Lopez de Heredia to name a few–sealed with a wax layer on top of the cork. While they are annoying since they require an additional sweep of the counter, I've never shed blood as Paul apparently has. And I think they do add a nice aesthetic touch.
But what say you? Should wineries no longer use them as Paul suggests?

Loading ...