Ben Carter writes a wine blog from Memphis known as Benito's wine reviews. In the same spirit as our impossible food wine pairings, his series "Benito vs. ___", he takes on such crazy foods as cactus or an MRE. Check them out! And while you're there, you can check out his kind words about my book A Year of Wine–as well as a few words from me since we did a Q&A.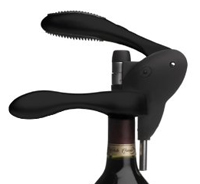 One of the questions he asked me was about a time when I had trouble opening a bottle. Being smoother than Rico Suave with corkscrew, I could only think of crumbly corks as difficult-to-open situations.
But later, Mrs. Vino reminded me of The Rabbit!
I haven't ever confessed this to you, but The Rabbit and I are not friends. We once brought a celebratory bottle of red over to some friends at their new home. New as in brand new. And freshly painted. They presented me with The Rabbit to open the bottle and I confidently pushed down on the lever in such a manner as to thrust the cork into the bottle and force a geyser of red wine up to the ceiling. Whoops! Fortunately the painter was due back soon. But still, not one of my finer bottle opening moments.
What about you? Do you have any embarrassing moments in bottle opening that you'd like to share?