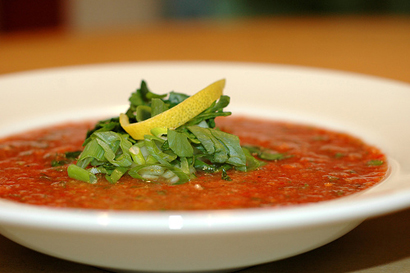 Soon enough, and barring a worsening of the blight, ripe local tomatoes will be flooding greenmarkets around the country–if they aren't already. Which always puts me in the mood for gazpacho!
So easy to make and so fresh: Some tomatoes, a cucumber, a little red onion, a garlic clove, some vinegar…Mmm!
But tomatoes have high acidity and vinegar is wine gone bad, which is always hard to pair with good wine.
Which wine would you pair with a bowl of gazpacho? Or is it…impossible?!?