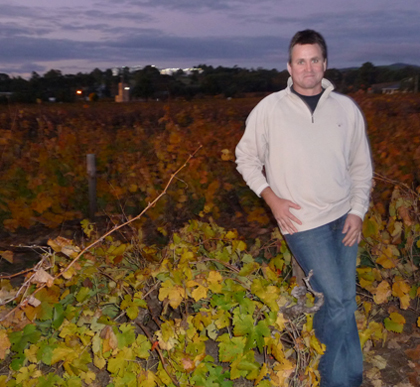 Although I'd like this photo post to speak 1,000 words on its own, I'll add a few of explanation.
In the foreground, Dean Hewitson stands in the Old Garden vineyard, which was planted in 1853 and grows today without irrigation. As you can see, the bush vines lie in unruly rows since they aren't trellised. I tried the 2002 Old Garden Mourvedre and it had gamey aromas characteristic of the grape, as well as dark fruits and smooth sweet tannins. (find this wine; I'll have to stick it in a blind tasting of mourvedres if I do one of those again.)
In the photo, the lights visible on the hill beyond Dean are illuminating the vast Orlando (Jacob's Creek) wine making facility. Consider it a study in contrast.
We visited the vineyard at dusk and on the way back to the car, I heard a kookaburra laugh echo across the vineyard. For all you birders out there, you can see/hear the kookaburra here.