A dozen intrepid tasters gathered at the Dr. Vino World Headquarters on Saturday to answer two pressing questions: (1) is mourvedre the next grape "for men" and (2) if we see more of it thanks to global warming, is that a good thing?
The two questions are interrelated. Because mourvedre (minus one for machismo—French name) has a long hang time (plus one!) it can produce powerful red wines (plus two!) that are high in alcohol (plus three!).
Further, the late bud break and late ripening mean that it does well in warmer climates, such as its ancestral homeland, Spain. The grape has grown so well in Provence that the appellation Bandol mandates that all reds must have at least 50 percent mourvedre. As the world heats up, are we going to see more mourvedre?
Mourvedre is popping up around the world. Originally named after the Spanish town of Murviedro, it came to cover much of southern France. In the late 19th century when phylloxera devasted vineyards, mourvedre lost out since it was difficult to graft, the successful remedy against the louse. Only in the last 50 years was mourvedre able to be grafted and as a result it has swung back into favor though it still lags the other big reds.
It is often blended with grenache and syrah in the Southern Rhone. Chateau de Beaucastel has had as much as 70 percent mourvedre in the blend. Known for giving brambly, rustic, gamey or animal aromas it can take a wine to the wild side. Australia also makes blends known as "GSM" after the three grape varieties although I found it hard to locate one with a significant amount of M.
The best wines from mourvedre are known to improve mightily with age. So I wanted to be sure to include some with age as well as from various growing areas. And it tends to be good in its inexpensive incarnation from Spain, so I wanted to include a few of those too.
I bought ten wines that were mostly mourvedre—or monastrell as it is known in Spain or mataro as it is known in California. Seven of our wines are currently available on the market. One, the Castano Solanera 2001 had been in my cellar for the past couple of years since I purchased it for about $10. The two others, the Tempier and the Ridge, I purchased from Hart Davis Hart in Chicago.
They came from Spain (5), California (3), Washington State (1), and France (1). I bagged them that morning so the tasting would be free of prejudice.
The tasting (in my order of preference)
Ridge, Mataro, Evangelo Vineyard, ATP, 1993. $25 find this wine
An excellent example of aging gracefully. Soft and delicate tannins, notes of forest floor, brambles, dust, leather and some tart cherry, this bottle was quickly emptied. With only seven barrels made, this was a small production that is now out of production.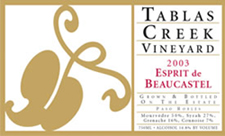 Tablas Creek, Esprit de Beaucastel, Paso Robles, 2003. $38 find this wine
Wonderfully balanced with notes of earthy rusticity. The luscious black fruits, supple tannins, and mouth-filling charm with layers of complexity including faint clove, briars, and sage made this my favorite of the young wines. 50 percent mourvedre.
Rafael Cambra, Valencia, 2003. $30 find this wine
Modern in style, this wine exhibits the intensity of the grape in its youth: a slight minerality and acidity followed by solid but fun tannins from the oak as well as the grape. This one could do with 3-5 years in the cellar.
Castaño Solanera, Yecla, 2001. $10 find this wine
Although this wine had a couple of years of age on it, the tannins were still serious. But they made it seem more grown up. Sadly, a second bottle opened after the tasting was corked.
Juan Gil, Jumilla, 2003. $15 find this wine
This highly praised wine from importer Jorge Ordonez is fun and approachable with big concentration and supple tannins and notes of dark fruit, bacon fat, and vanilla. Many tasters enjoyed it, as did I. But I couldn't help wondering if, in the future, if it wouldn't be just a tad dull? Still it was the best performer of the currently available under $15 group.
Domaine Tempier, La Migoua, Bandol, 1998. $35 find this wine
Still very dark in color, this single vineyard Tempier with eight years of age was a disappointment. It exhibited musty, skunky notes with licorice and fatigue. I tried it again after the unveiling. A half a bottle remained at the end of the evening.
McCrea, Mourvedre, Red Mountain, Washington State, 2003. $13/375ml find this wine
Bottled in clear glass, the wine has a bright, Jolly Rancher color. It was a prelude to a taste: odd sweetness permeated the wine. Well made and improved with some of the cheeses, but oddly sweet finish remained.
Casa Castillo, Jumilla, 2004. $11 find this wine
No great complexity, no tannic backbone left me thinking, "eh."
Luzon, Jumilla, 2005. $7 find this wine
With the previous vintage receiving huge praise (although my experience was one good one bad), I had thought that this would be a ringer. Unfortunately it was not to be. There was an odd mustiness that would not blow off, bright berry up front and oak that was not well integrated.
Garretson, mourvedre, "la graosta," Paso Robles 2004. $30 find this wine
This 100 percent mourvedre had odd notes of sea salt and sulfur that took a while to blow off. Bright cherry and wet dog notes also present. Perhaps blend in some grenache or syrah? The alcohol too was perceptible with 14.8 percent on the label.
Returning to our two questions, mourvedre may not be too manly since men and women enjoyed the wines equally. And if we do see more of it in an era of global warming, it is able to produce exciting wines, particularly when blended with the fruitiness of grenache and the spiciness of syrah. On its own, a great site and top winemaking skills appear needed to make a good one. If game or fowl is on your plate this fall, try matching it to a mourvedre in the glass.