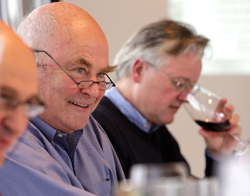 Eyebrows arching, James Halliday spots an opening and intercepts the ball. He dribbles to the other end of the court, pulls up for a jumper right before the three point line, shoots, and scores! Orlando over the Lakers at the buzzer!
Okay, Halliday, the 71 year old former vintner and author of some fifty wine books, wasn't really in the NBA finals. But a tasting last week in the Barossa Valley did showcase some of Australia's most amazing wines of all time. By showcasing talent old and new, it was kind of like one of those sports questions about who would be better head-to-head, Kareem Abdul-Jabbar vs LeBron James or Hank Aaron vs A-Rod kind of thing. While the younger wines showed some flash, for me it was the seniors that stole the show.
Andrew Caillard of Langton's, an auctioneer, told us that it took him nine months to arrange the tasting, adding that many of the bottles were among the last available. He presented a history of Australian wine making and how the wines we were tasting were landmark wines in one way or another.
While I knew that mature cabernet could be incredible, I wasn't so sure about mature shiraz.
First up was the 1954 Seppelt Great Western Hermitage K72 Shiraz Great Western Grampians. Looking very mature in the glass, almost tawny in color, I thought it was going to be shot. Despite only muted aromas, the wine was actually holding together well and had a good balance and finish.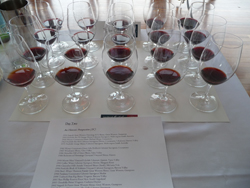 Next was the 1955 Penfolds Bin 95 Grange. Inspired by a trip to Bordeaux, Max Schubert of Penfold's decided he wanted to make a grand vin a l'australien–or something like that. So he took the best shiraz and cabernet grapes he could, blending regions as well as grapes, and put them in open top fermenters and then finished the fermentation in small American oak barrels. The first vintage of the wine was 1951 but it wasn't sold; 1952 was the first commercial vintage and is no longer good. The 1955 we had was a wine originally developed for the show circuit and was showing very well. Much more red than the Seppelt K72, it was also more youthful, richer, rounder with a hint of shiraz sweetness on the finish. A mature wine to be sure, but very rewarding. Incidentally, this bottle was recorked under the Penfold's recorking program, which can provide a greater degree of certainty that a bottle will still be in good condition since it has been tasted by a member of the Penfold's staff (with a wee dram of the current Grange added for topping up any ullage–love that word).
The 1955 Wynns Coonawarra Estate, Michael, shiraz followed. An excellent and interesting wine, with more meaty and savory aromas than the first two. Caillard described the wine as a "freak," since there was no power shiraz produced in the Coonawarra and the wine was low alcohol.
But the wine of the day, and one of the best wines I have ever tasted, was the 1962 Penfolds Bin 60A, a blend of Coonawarra Cabernet and Barossa Shiraz. I had the good fortune of tasting this wine last fall in New York, and, sadly, the bottle I tried was off. This bottle, however, was on. Big time. It's the wine tasting equivalent of a buzzer beater and a walk off grand slam all in one. Although it has that kind of excitement, an important difference is not the power of those moments but rather the delicacy and elegance of the wine, with aromas of cigar box and dried fruits, a fine tannic structure with a finish that lingers for the whole afternoon.
As if that wine alone wouldn't have made the tasting, there were fifteen more. Next was another Penfold's Grange, this time a 1971 vintage. As you may recall from a magazine article I once wrote about finding birth year wines, 1971 is always a vintage that I keep an eye out for. (The wine's success in the auction market for a time made it a barometer of economic activity according to a leading think tank.) Max Schubert, the winemaker, apparently did not like to add acid and in this case picked the grapes early and the resulting wine was a deliciously refreshing 11.5% alcohol. Andrew Caillard said that they did add "heaps and heaps" of tannins, which are still present today although finely integrated. The wine is really in a good place today.
Next we had four wines from the eighties, an 82 Wynns Coonawarra Estate Cabernet, John Riddoch, a mature cabernet that was tasting great, the idiosyncratic 1985 Wendouree Shiraz Clare Valley with its odd hint of iodine, the 1986 Henschke Hill of Grace, probably Australia's most famous single vineyard wine still with a toasty oak influence, and 1986 Brokenwood Graveyard Vineyard shiraz Hunter Valley that still had quite lively acidity.
Up next was the 1990 Mount Mary Vineyard Lilydale Cabernets Quintets, a lighter but rewarding style of cabernet that showing very well with a secondary blackcurrant note, lovely delicacy and great precision with no greenness or herbaciousness. Apparently Robert Parker described this wine as a "cru bourgeois." The 1995 Cullen Wines Cabernet Sauvignon Merlot, Margaret River still had a lot of tannic vigor that Andrew Caillard amusingly described as "a hairy armpit, long hair style wine that is no shrinking violet."
The 1996 Clarendon Hills Australis was included as emblematic of the cult wine scene, which Caillard admitted that even he hadn't really seen coming. The 1994 Clarendon Hills sparked controversy since it didn't do well on the Australian show circuit but Robert Parker bestowed it with a 96 point rating, sparking demand around the world. The wine was made from 75 year old vines and 100% new French oak barrique aging. In the glass today, the aromas had an odd blend of plummy red fruits and menthol while it tasted disjointed and tannic.
Of the remaining wines (see the full list here), I wanted to particularly highlight the 2001 Clonakilla Shiraz Viognier. Hailing from vineyards around the national capital of Canberra (and some joked that it's the best thing to ever come out of Canberra), the wine is a beautiful blend of Shiraz with a touch of viognier. In this case it was about seven percent Viognier cofermented with Shiraz but that has been declining in recent vintages. The hardest thing about adding Viognier, in my view, is to get Viognier that is as good as the shiraz since Viognier can be a pretty rough and tumble category. But in this case, the Viognier gives the wine tremendous aromatic lift and this particular wine was singing.
Image 1: Landmark Australia