For enophiles, one of the great travesties of the past few years has been the rise of a new puritanism in France. Yes, the country perhaps most associated with wine has, paradoxically, also seen increasing amounts resistance to wine from some parts of society. In my book Wine Politics, I've compared this (French?) twist with America and how the two countries seem to be headed in opposite directions; many others have also commented on these changes.
Perhaps the most jaw-dropping of the actions relates to wine and the internet. A French court ruled early last year that Heineken's web site was illegal to display in France, which sparked fears and confusion among wine web sites and Microsoft pulled wine ads. Also, in another decision last year, a court fined the newspaper Le Parisien €5,000 for a champagne review article claiming that it was no different than an advertisement and should run the disclaimer: "Alcohol abuse is dangerous to your health."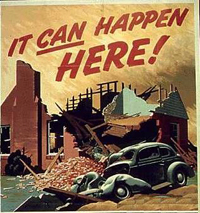 That could never happen here, right?
Well, not entirely. According to this article on ABCnews.com, under new Federal Trade Commission regulations on Consumer Product Testimonial and Endorsement Rules, product reviews on blogs may soon fall under the same liability standard as advertisements. (Given the various claims to the tune of "lose thirty pounds in thirty days," one might easily be forgiven for not even realizing that there even were advertising standards.) The most obviously affected category would be paid reviews, but those, rightfully, shouldn't count as editorial anyway.
"It would only affect bloggers who are paid to write reviews but the sticky issue that is raised is what happens if a product is given for free," an FTC spokesman told ABC News.
That could raise a host of issues for wine bloggers as well as wine journalists whose articles appear on the internet. But whether a review of a free sample wine (as opposed to a purchased wine) could ever be seen as basis for liability, as it might in an infant car seat as the focus of the ABC story, seems like an incredible long shot. The subjectivity of reviews (what, you couldn't find notes of raspberry and saddle leather?) and the bottle variation among consumers in different states would be two strong aspects running against any enforcement of this FTC act. As they probably say in fine print on the weight loss ads, results may vary.
One way to connect the dots more closely might be if the blogger in question were, say, a wine retailer or a winery who also happens to sell wine. There's a lot of web content, be it blogs or Twitter or Facebook updates, emanating directly from wine sellers and marketers that might fall under this increased stringency from the FTC.
As Matt Drudge might say, "developing…"