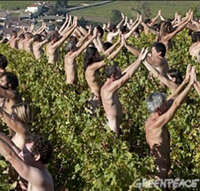 SIPPED: disclosure
The FTC has promulgated new guidelines that include disclosure of "material connections" (in cash or kind) for bloggers as of December 1. Should this apply to magazines, newsletters, or online magazines? Why not? As discussed previously, enforcement will be an issue.
SIPPED: more nudity and wine
In Burgundy, 713 people take off their clothes to be photographed among the vines–all in the name of demonstrating against global warming. Randall Grahm had the bon mot on twitter: "Cotes de nue-its?" [greenpeace.fr]
SIPPED: Hong Kong
Hong Kong surpasses London and NYC as the largest wine auction market according to a story on Reuters. The Asian market for wine is "in danger of overheating" while the US is "weak" according to David Elswood, Christie's international head of wine.
RIP: Gourmet magazine
After a review by McKinsey consultants, Conde Nast has decided to close Gourmet, the venerable food magazine. But if BusinessWeek, which lost $43 million last year, has attracted many bidders, why isn't Conde putting Gourmet up for sale? Or making Anna Wintour stay at an EconoLodge?
SIPPED: changes in NYC dining
The new Michelin guide NYC comes out tomorrow; Daniel has been promoted to three stars, Alto rises to two stars and Corton debuts with two. Why Eleven Madison Park only gets one star is anyone's guess. [Bloomberg]
Also in NYC dining, Chanterelle will now be closed permanently. Their long-time sommelier, Roger Dagorn, will now join Porter House according to Off the Presses.
And in NYS, the State Liquor Authority has a backlog of 3,000 applications; a report suggests a bureaucratic overhaul that may include making BOYB easier for new restaurants. [NYP]