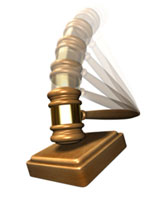 One thing we've learned the past few weeks is that markets love a good bottom. As the stock market has bounced off a low on March 9, the financial news is full of bottom talk–"the bottom is in," cried euphoric trader! "Baby's got back," shouted another! (Oh, wait, that wasn't from the trading pits.)
The wine auction market followed other asset prices in a sharp descent over the past six months. The theory that wine was a different type of asset class, immune from corrections, has suffered.
But in three auctions last weekend, the market showed signs of stabilizing. In Chicago, Hart Davis Hart sold 100% of lots for $2.2 million, toward the high end of estimates. In New York, Christie's sold 95% of lots for an aggregate of $1.27 million. In Hong Kong, Acker Merrall boasted over 95% of lots sold for $4.36 million gross. Press releases for all three talked about how "it seems the wine market has sprung to life" (Christie's), how it "sizzled" (Acker), and "it's been a long
time since I've seen such spirited competition as we saw today" (Hart Davis Hart).
In my casual observation of a catalog, it seemed to me that the estimates were priced according to the recent sell-off, that is to say, lower. I even submitted a couple of low-ball bids, below the low estimates, and was not successful.
So has the wine auction market touched bottom? While it was the first place to pick up deals in the fall as the economy took a nose dive, it seems to be perking up now. But is this a false dawn? My guess is that it pretty much follows the equities markets and the macroeconomy.