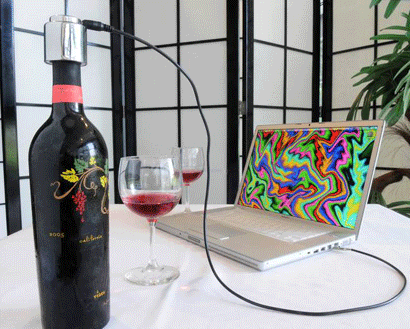 Researchers at the Argonne National Laboratory have taken a break from their usual physics research and turned their attention to combating wine fraud.
Roger Johnston and Jon Warner in Argonne 's Vulnerability Assessment Team have developed a cap that can be put in place at the winery to track if the bottle has ever been opened or tampered with.
However, if you thought resistance to screwcaps was high in the realm of fine wine, get a load of this Lojac meets Denver Boot meets car alarm thingy. And just look how it makes your laptop bug out when you connect the two! Full details on the story in their press release. (hat tip: Andrew)
In other wine and technology news circulating today, the e-tongue has resurfaced. But we've already wagged our tongues at that one!
Related: The Billionaire's Vinegar by Benjamin Wallace