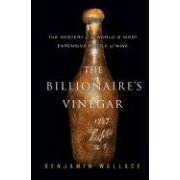 In 1985 at Christie's auction house in London, Kip Forbes–dispatched by his father Malcolm to bring home a bottle of 1787 Bordeaux on the Forbes private jet–finds surprising competition from a then-upstart publisher: Marvin Shanken of the fledgling Wine Spectator. A spectacular bidding war ensues over the bottle that may have belonged to Thomas Jefferson and one of them takes the bottle back to New York in an extra seat on the plane, strapped to a mattress (read the book to discover which one) after winning it for $156,000.
Such is a great scene near the beginning of the fantastic book Billionaire's Vinegar: The Mystery of the World's Most Expensive Bottle of Wine. Released last month, this page-turning book that reads like fiction has already reached the extended NYT bestseller's list. It's a wine book that has a lot of appeal beyond simply wine geeks since the book's verve derives not from tasting notes but a mystery over whether the bottle that Shanken and Forbes bid on was real or fake.
Of course, for wine geeks, there's not a lot of suspense in the final outcome since in the past couple of years, there have been so many developments in the story of the "Jefferson bottles," amply detailed in the New Yorker and on the front page of the Wall Street Journal among other places. Billionaire Bill Koch has sued many players by now but most importantly Hardy Rodenstock, the German collector and seller of the Jefferson bottles and the litigation remains unresolved. But even if the plot line and characters are well known to wine geeks, and the main drama has not yet reached its bitter conclusion in the courts, the book is so well written that it is an absolute pleasure to read.
With all the billionaires, their bling bottles and, eventually, lawsuits, there's plenty of action to sit back and pass the popcorn. Unfortunately, the excess and hedonism where tens or hundreds of thousands of dollars are literally pissed away left me occasionally wanting to say "pass the dump bucket" out of revulsion at the ostentation.
But that very Lifestyles of the Rich and Famous quality paired with the wine intrigue means that the movie rights have already been sold, as we discussed in February complete with speculation about which actors could play the roles. It's a movie that I look forward to seeing. Though after reading the book, I'm reminded that there is something missing: women. This profound look into the world of wine collecting reveals just how few women there are, something that will doubtless be corrected for the silver screen. Let's just hope the story isn't diluted into a counterfeit in the process.