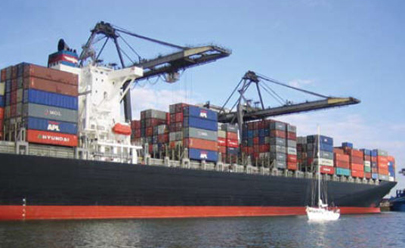 Should wine be imported in bulk tanks to the country of consumption and then bottled there? It reduces the carbon footprint of wine. But what about the quality?
At the London International Wine & Spirits Fair (LIWSF) today, a group made such a case. The Waste & Resources Action Programme presented a paper study today arguing for the efficiencies. They no doubt have a commercial interest to gain in such a switch but here's an example of their reasoning:
"Shipping wine from Australia [to the UK] in bulk reduces CO2 emissions by 164g for each 75cl bottle, or approximately 40% when compared to bottling at source," they write. They continue to say that 10,584 liters of bottled wine fits in one container versus 25,000 liters of wine in a bulk tank. (But did they count for the bottles making a round trip?)
My initial reaction to this would be a big "no tanks." After all, shipping and rail have to be so much incredibly more efficient from a carbon perspective than trucking or (gasp!) air.
As a wine geek, I'm worried about quality first and carbon second. But I recently had the charming Terra Rosa malbec from Argentina, which is brought to California for bottling so it may not be such a dire tradeoff. As long as everything is properly labeled, maybe there is a future for entry-level wines to be transported this way.
What do you think? Sound off in the comments!
Related: "Bottling Wine in a Changing Climate" [WRAP]