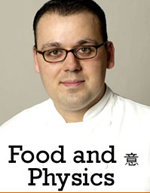 I recently crossed light-sabers with Chef Homaro Cantu who had a recipe in Wired magazine for "caramelaserizing" wine. In short, he zaps a vanilla bean with a laser beam to fill the overturned wine glass with smoke, then upends it and pours in the wine. For the details see my earlier post where I put Chef Cantu on notice for such a practice.
Well, Chef Cantu, founder of Moto restaurant in Chicago is clearly a cutting-edge chef who says he's "changing the way humans perceive food." He prints his menu on edible paper, cooks his sea bass sous vide, bakes his bread from the inside out, and serves frozen pancakes at -273 degrees.
However, his wine service has been less publicly analyzed than the food. We know it is progressive (no word on cork screws). And the chef himself is so progressive that he even posts comments on blogs. Such as this one. To wit, here are his previous comments in defense of caramelaserizing wine:
Utilizing pure light does not add nor take away any artificial or natural aromatic characteristics of the item being "caramelaserized". Another advantage is low energy consumption per glass altered and the pinpoint energy and directional control of a laser. A water based vapor would impart a different mouthfeel into the glass as well as implement bitter qualities. Also, I can impart qualities not associated with edible foodstuffs, like laserizing real leather into a glass of scotch. Now you can allow your imagination to run wild with descriptive characteristics because they are now a more robust reality, not just a subtlety.
I wrote Chef Cantu and said I would be in Chicago over Thanksgiving. He has invited Mrs. Vino and me to be his guests on Saturday the 25th. So for you, dear reader, I will go and try his vanilla beans and laser beams and issue the definitive report! Does smoke blend with wine? Or is it post-modern smoke and mirrors? Stay tuned!
Related
"Who's threatening us now: Homaro Cantu" [Dr. V]
"Weird Science" Fast Company magazine.
Moto restaurant
tags: wine | food and drink | homaro cantu | molecular gastronomy