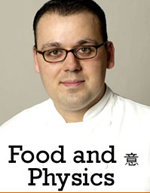 Prologue
I recently put Chef Homaro Cantu "on notice" for his wine service recipe published in Wired magazine. In brief, the avant-garde chef suggested zapping a vanilla bean with a laser beam to create a rich smoke that is trapped in an upside-down wine glass. Turned right-side up, the wine is added and the aroma is enhanced. Or so Cantu argued in the comments of my previous post (see here for full details). I was skeptical and gave him a proverbial wag of my finger and posted that I wanted my wine the way its maker intended.
I wrote Chef Cantu that I would be in Chicago over Thanksgiving and would be willing to drop by his restaurant, Moto, and give the "caramelaserized" wine a shot—or perhaps a zap. Here was his reply.
Mr. Colman,
We are closed on Sundays and on Thanksgiving. Please go to motorestaurant.com for hours of operation. Just let me know when you would like to join us and you will be my guest.
Thanks,
HC
A couple of emails later, and Chef Cantu told Mrs. Vino and me that we had a 5:30 reservation on Saturday. Zap, pling zoom! We were going to put this laser beam to the test.
The evening had an arc that it is best told in three scenes: anticipation and exploration; the encounter; disappointment and the bitter finish.
Scene I
Even though it was only 5:30, it was dark. Mrs. Vino steered our fire-truck red rental car through the canyon of dormant delivery trucks. Fulton Market used to house a portion of Chicago's famed meatpacking district. Today the meat warehouses are giving way to loft office space, condos, and trendy restaurants, such as Moto.
I thought it would be the large and open restaurant on the corner with the headless mannequins in the window. It turned out to be the smaller restaurant next door, its windows shrouded in soothingly neutral colors blocking the view from the street.
The restaurant itself is not large. The sleek minimalism and color neutrality of the décor is occasionally disrupted by a cutaway to the brick wall underneath in an elegant nod to the neighborhood's warehouse tradition.
We had read about the edible menu beforehand so when we were presented with the wine list on a small paper booklet, I was tempted to take a bite. But the dinner menus arrived shortly afterward and they were indeed printed with soy ink on some sort of edible paper grafted onto a flatbread seasoned with thyme and parmigiano reggiano. The choices were three prix fixe menus of five, ten or twenty (!) courses. The time estimates were one-and-a-half hours, three hours, or four hours. Yikes.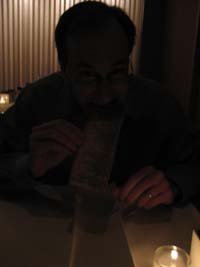 "When you've made your selection, signal to me that you're done by taking a bite," our server told us, a line that we heard repeated at other tables throughout the evening.
I told her that Chef Cantu had invited us so I wasn't sure what he had in mind. While she ducked out to check, I tucked into my freshly baked menu, starting at the bottom with the copyright notice. Mmm, yummy copyright notice. (Note me doing just that in the low-lit photo to the right. Also note the ban on flash photography that rendered the food photos useless. That–and the fact that I kept eating the food before remembering to take a photo–doh!)
Our server returned to clear the menu crumbs and tell us that the chef had taken care of us. We didn't know what we were getting in for. We wondered how long we would be there and if we should call my brother and tell him to put our son three-year-old son to sleep. But we couldn't call since the menu said that cell phone use is prohibited. At least I think that's what it said and I wasn't about to summon it from the recesses of my digestive tract to find out.
First came a "soup and salad," red and green liquids presented in the same bowl, a shaped vaguely like a gravy boat. The server said it was "pizza and Caesar salad." The red side was "like we took a Domino's pizza and blended it." Ditto the green side with a salad. There were even mini croutons floating on the green side. The server poured us a Unibroue Editions 2005 ale from Quebec, weighing in at 10 percent alcohol, to accompany this dish (find this beer). Served in a wine glass, in the three sips of the short pour I noted a fun malty taste. Wacky as this course was, it worked. Though talking about Domino's, which I hadn't had since I last lived in a dorm room, wasn't exactly what I wanted to be talking about here.
Second was hamachi sashimi with baby arugula, celery root puree, and some delicate, crunchy onion slices. Next to that was half an orange, face up, and bubbling. The server explained that it was "carbonated" and recommended trying a little of the sizzling foam and then squeezing it on the hamachi. I really liked the hamachi on its own. Verdict: sizzle over substance. The wine for this course was a dry white wine from one of my favorite producers, Baumard, in the small Savennieres sub-region in the Loire. (find this wine)
The third course was the best dish of the evening: monkfish served over scarlet runner beans (think fava beans but red) both pureed and whole. As the puree drizzled to one end of the oblong plate, it encountered some lively crunchy rice and a white powder. This was a form of truffle oil vinaigrette—dehydrated. It is a brilliant dish. A bite of fish dipped in the bean puree and the powder tasted as if it were washed in a rich sauce. The Vina Alberdi 2000 bottling from one of my favorite Rioja producers, La Rioja Alta accompanied the dish. With a notable presence of American oak in the wine aroma, the wine is serious particularly for its middleweight retail price of around $17. (find this wine)
It was about here that the loud guys at the table next to us ordered a "blueberry smoothie." They asked the server to describe it and first one and then another server couldn't. "I've never tried it," said one. At this level of dining, I would expect that every member of the waitstaff had tried everything—or at least could say what it's like everyday language if not the terms of molecular gastronomy.
Scene II
Our server approached the table and said that we were going to be escorted down to the kitchen—but first she had to return with the appropriate attire. Attire? I remembered hearing that when the restaurant first opened that the waitstaff wore lab coats (now they were black suits). She returned and placed some goggles on the table.
"These you can't eat. But you have to put them on, either here in the dining room or at least by the time you get to the staircase in the back," she said.
We did as we were told. We were escorted down the stairs to the kitchen. It was hot. And dark. Despite that all the kitchen staff were wearing sunglasses. A red flashing light, like one from a police car, cast a rotating red aura around the kitchen.
The pastry chef, Ben Roche, received us. He flicked a switch making a red beam appear on the floor. "Don't cross this line," he said retreating behind a machine that I took to be the class IV laser.
Just then a stocky, smiling figure, wearing sunglasses and headset with a boom mic sidled up next to me. "Hey, do I look familiar?" he asked. It was HC! Behind the dessert chef was a large screen with a grid of numbers along the column and the rows and color coding the middle. It probably managed the flow of each table's meal. But it soon disappeared and was replaced with my blog. Precisely, the page where I put Cantu "on notice."
"Hey guys," Cantu called to the kitchen staff. "Here's Dr. Vino and here's what he wrote about me!"
Yikes. I had the feeling I was about to be thrown on the table in front of the laser beam like James Bond in Goldfinger. Fortunately Cantu was smiling. And the kitchen staff was too busy to even notice, let alone wield their knives in my general direction. The screen flipped back to his grid and we turned our attention to the laser.
Unlike the Wired recipe with a vanilla bean, our wine was to be "caramelaserized" using a sort of dehydrated orange, reduced to mere powder. Ben Roche, the pastry chef who was wearing a Bjorn Borg-style headband, held a spoon similar to a sweet-and-sour soup spoon with the powder of orange in it. A wine glass was clamped upside down and as the laser beam hit the spoon, a plume of smoke drifted up into each glass. Roche took the smoke filled glasses down and placed them on a small, cloth covered tray.
From behind her set of goggles, Mrs. Vino asked them if they had the largest pupils from working in such a dark environment with sunglasses. They replied that they just did it when there were visitors in the kitchen. Hmm, style over substance?
Our smoke filled wine glasses met us back at the table where they were up-ended and then filled with Tulocay Nord Family Vineyard 2002 pinot noir from Napa (find this wine). I had vaguely heard of this producer but never tried the wine so I asked for a pour in a glass that wasn't "caramelaserized." The wine in the treated glass was much more aromatically expressive—it amplified the wines rather muted aromas without seeming artificial. There was a predominant note of burnt orange, one that you would never find in the wine, but somehow it didn't seem out of place. I anticipated the wine served this way would be simply gimmicky but instead I thought it was a neat trick, though not one I'd like to repeat with every glass.
This wine was paired with our fourth course, a pan-seared (how conventional!) quail from Texas. Although this was the bird that Dick Cheney was hunting during his ill-fated adventure, I somehow doubt that he's ever eaten it off of Chef Cantu's "battleship" plate—complete with patent pending we were told. The slab of steel has a 90 degree bend in the middle of it so it looked as if Mrs. Vino and had each taken out a laptop.
Chef Cantu is clearly an innovative guy and protruding out of the top portion of the plate were a spoon and a fork. Each had a sort of corkscrew handle. Fresh sage leaves had taken shelter there. With each bite, these "aromatic utensils" wafted sage under my nose. It might seem gimmicky but it worked.
Scene III
With the turn toward a series of sweet dishes, style started to trump substance. The "banana split" was doomed by the frozen "marshmallow" of maraschino cherry. Yes we all ate the maraschino cherry in a Shirley Temple, but how old were we then? The "doughnut forms" was certainly innovative since it involved doughnuts in five forms, none of them round. But in the final analysis the doughnut soup still tastes like a doughnut anyway. And pitching one of the morsels as "Dunkin' Donuts blended with coffee" just wasn't a thrill to me at this level of dining.
The "nacho chile" should have been the first dessert served since it blended sweet and salt of tortilla chips. Instead of ground meat, cheese and chili on the chips were covered with chocolate shavings, mango sorbet, and kiwi chunks. And the final petit four of silver dollar pancakes—cooked fresh in the kitchen, then liquefied, and dispensed through a turkey baster onto a frozen griddle, with dry ice clouds pouring off it—melted too quickly in my spoon and just kind of tasted like pancake batter. Along the way there was a Elio Perrone, Sourgal, a moscato d'Asti that was pleasantly sweet and bubbly (find this wine). This was the most generous pour of the evening at about 2 ounces.
During the quail course I had sent a follow-up question down to the chef. Sadly, it didn't seem like he was going to reply during the meal because the server was signaling the end by asking us if we needed a taxi. We were busy debating how much tip to leave on a complimentary meal and we assumed this taxi question was the classic sign off for the end of such a meal. I stepped away from the table to see if the men's room was as avant garde as the cooking. It wasn't.
When I returned, I saw there was an envelope on the table. Assuming that it was a reply to my question that I had sent to the chef, I opened it to see his answer.
I was shocked. It was a bill for $237.26.
We were charged for two five course tasting menus and one wine service of $45. Plus tax and an 18 percent gratuity.
Suddenly it seemed way overpriced and not that much fun. In retrospect, Mrs. Vino joked that I should have put the bill in my mouth and then walked out smiling, having literally eaten it. What, the bill, unlike the menu, is not edible?
I was worried about the ethics of taking a free meal in the first place. In announcing that I would be going to Moto, I posted that I would be the guest of the chef to keep everything above board and that the sacrifice would—ha ha—be for you, dear reader.
But in the end Chef Cantu decided to spend my money without letting me in on the decision. The server could have informed us when we were ordering that the chef was happy to invite me to a wine service. Maybe we would have just had wine for one that way? Maybe we would have had the caramelaserized wine and hit the road? When I got the bill, I couldn't help but think that we could have gone to another fun restaurant for half the money at a time we chose with wines that we had selected.
But then again, the bill is always the hardest thing to swallow.
Related:
"Who's threatening us now? Homaro Cantu"
"We know there's smoke–but how about mirrors?"
Moto restaurant