Watch out wine lovers, we're going to be getting some competition. Pills.
We've known for a long time about the health benefits of red wine. In fact, hardly a week goes by without some new health news.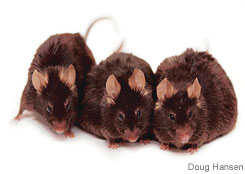 Now researchers at Harvard and the National Institutes of Aging have found that reserveratrol, found in red wine, can in "very large doses" slow down aging. Moreover, it can offset many of the negative effects of a high fat diet including the onset of diabetes. Lab mice with the equivalent amount of resveratrol as found in 10 – 20 bottles a day for human consumption, fed the same diet as others fared much better in agility tests and health later in life.
"They had all the pleasures of gluttony but paid none of the price," as this story in today's NYT summarized.
Wow, fountain of youth. Free gluttony. This stuff should be illegal! (oh wait, it is for people under 21) So give up the calorie restricted ascetism. And don't go for the pills, we know there's only one way: cabernet for all!
Read the excellent story in the Times summarizing the study from today's journal Nature by David Sinclair and Richard Hodes.
tags: wine | fountain of youth | gluttony