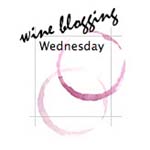 Ah, February with its abundant love cliches is soon approaching. But this year we food and wine bloggers will have nothing to do with pink champagne and heart-shaped tubs (at least that we'll write about). Instead, the theme for Wine Blogging Wednesday #18 is:

wine shops that feel the love!
We all have to buy our wines somewhere and why settle for dreary supermarkets or liquor stores when there are so many great (new) wine shops around the world? The shop that you will write about doesn't have to be big. Or fancy. But it does have to feel the love for the fruits of the vine with a knowledgeable and enthusiastic staff, a good selection, periodic free tastings (where legally available) and reasonable pricing. Custom shelf talkers (if any at all), original design, store layout, wine displays, or an informative newsletter are definite plusses.
And for those who absolutely MUST drink taste wine for WBW, consider it bonus points to write-up a value vino that a member of the shop's staff recommended.
I'm looking forward to learning about fun new shops endorsed by fellow bloggers that I can check out on my future travels. Wednesday February 1, 2006 is the date for your posting on your blog. If you don't have a blog, start one! (or I can post the comment of the blogless in my roundup) If you want to post photos to Flickr, tag them WBW and/or WBW18. Thanks to fearless WBW coordinator and founder Lenn–I'm pleased to be able to use the new logo! Cheers,
Tyler
tags: wine | food and wine | Wine Blogging Wednesday | WBW