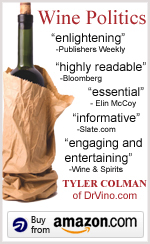 Select reviews and related items for Wine Politics: How Governments, Environmentalists, Mobsters, and Critics influence the Wines We Drink (now also available in Korean).

Profiled in an author Q&A in the Wall Street Journal, "The Politics of Wine," July 22, 2008. Also quoted in a WSJ column by Dorothy Gaiter and John Brecher.
"A new kind of wine book, essential for every wine lover's bookshelf." —Elin McCoy
"…it will unquestionably make you a more enlightened drinker." —Mike Steinberger

"Contain(s) so much history, data and anecdotes in a highly readable 144 pages." Bloomberg News
"Remarkable…accurate and well documented…Wine Politics has become a full-fledged member of my library." — the journal Gastronomica: The Journal of Food and Culture
"An enlightening volume on a complex topic."–Publishers Weekly
"It is the kind of book a wine economist would want to read and gift as a gift to friends. " —Journal of Wine Economics
"exposes a little-known but influential aspect of the wine business: the politics behind it." —Times Higher Education Supplement
"engaging and entertaining." —Wine & Spirits magazine
"'A delight to read with its clear prose and fluid style."–Deborah Harkness, Good Wine Under $20
"this book should be required reading for all wine lovers. Everybody." —Jeff Lefevere, GoodGrape.com
"required reading" —Jeremy Parzen
"Foundational…even-handed…Every state politician in America should at least be made to read the "Baptists and Bootleggers" chapter in this book." –Tom Wark, Fermentation
"after reading this book, a glass of wine will never be the same." —Gastronomer's Guide
Four stars (out of four) —Sibaritas magazine (Spain)
"…as compelling as its subtitle is catchy. It will change the way you think and may even change the way you shop and the wines you buy." —Sharon Kapnick
Author Q&A with the Chicago Reader.
Interviews, podcasts and audio:
New Hampshire Public Radio, "Word of Mouth"
Chicago Public Radio's "Worldview"
KDVS (UC Davis) radio show, "It's About You!"
Marketplace of Ideas with Colin Marshall
And one from UC Press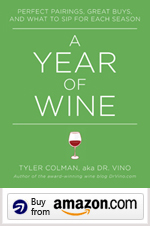 A Year of Wine: Perfect Pairings, Great Buys, and What to Sip for Each Season (2008: Simon Spotlight Entertainment)
""charming…witty, lively and loaded with common sense. [Colman] offers up wine suggestions for every holiday on the calendar. Just what we all need."" —Chicago Tribune
"Usually, I feel as though reading about wine instead of drinking it is a bit like going to the Playboy mansion bound, gagged and blindfolded. But that's never been the case for Tyler Colman's writing, whether it's his books or his blog. This is fun, inspiring stuff that'll make you excited about wine, not send you running, screaming from it."– Eric Arnold, author of First Big Crush: The Down and Dirty on Making Great Wine Down Under
"Here is an approach to wine sure to open a lot of people's eyes to a lot of pleasure. It replaces the numerical scoring system with some strongly flavored common sense. And it answers the question: what is the best way to enjoy wine."– Kermit Lynch, wine importer and author of Adventures on the Wine Route and Inspiring Thirst
"To me, nothing says 'summer' like a big, sweet, alcohol-rich glass of Amarone alongside a briny bowl of linguine and clams. I'm just kidding. That would be disgusting. This is Tyler Colman's point and it's a good one: Wine is all about place and context. Lots of books give you the 'whats' of wine, but this one gives you the 'whens,' 'wheres' and 'whys' as well."– David Lynch, co-author of Vino Italiano and The Wine Snob's Dictionary
"A Year of Wine offers a unique way to enjoy and appreciate wine. As a world traveler I will follow Tyler Colman's advice next time I'm enjoying the sunset on the Caribbean coast of my native Venezuela or looking at the beautiful red roofs of Florence, Italy. Choosing the perfect wine for a special occasion is like selecting the perfect pitch to hit an RBI double with men in scoring position." — Bobby Abreu, starting right fielder, New York Yankees
"I absolutely recommend [it] as a great buy for your bookshelf and your comfy chair." —Slashfood
"the perfect choice if you have someone on your list who is new to wine or is intimidated by wine." —Deborah Harkness, Good Wine under $20
"there aren't many wine books — if any — organized around seasons…The book is laced with Colman's sense of humor and charm." —Sharon Kapnick
"far more than just a buying guide…I bought the book and eagerly devoured it in its entirety the next day." —The Passionate Foodie
""a terrific addition to the Wine Guide genre that will enlighten many a wine drinker by making their relationship to wine deeper and more meaningful…and probably more fun too." Tom Wark, Fermentation