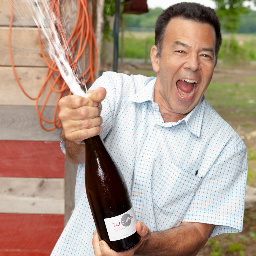 Daniel Johnnes may be the closest thing the American wine world has to Burgundy royalty. Yesterday he announced that he has joined Grand Cru Selections, an importer and wholesaler based in New York City, as a partner. It's a big move, if somewhat "inside baseball."
"This is an opportunity to be a partner in a young and dynamic company that I didn't want to pass up," he said by phone.
Johnnes, 60, helped pique America's interest in Burgundy wines When he was a sommelier at the erstwhile restaurant Montrachet in the early 1990s, he hosted winemaker dinners with the likes of Christophe Roumier and Dominique Lafon that encouraged American collectors to add Burgundy to their cellars. In 2000, he tapped his connections in Burgundy to hold the first "La Paulée de New York." This bacchanal now alternates annually between NYC and SF and is marked in red on the calendar of collectors. It also functions as a sort of "Burgundy university" for the sommeliers who work the event. Johnnes brokers a number of wines including Roumier and Lafon that he will be bringing to Grand Cru. He was #4 on our NYC wine power list a few years back. He currently is spending a year in Lyons.
Grand Cru Selections was started in 2010. Ned Benedict, a founding partner, said of their strategy: "we're trying to build a really well-conceived portfolio of wines. Burgundy is obviously really close to all of our hearts." But, he underscored, "we're not trying to become a house of Burgundy–other regions are very important to us too." Their portfolio includes the wines of J.L. Chave, Marquis d'Angerville, and nine wines from Piedmont, among others.