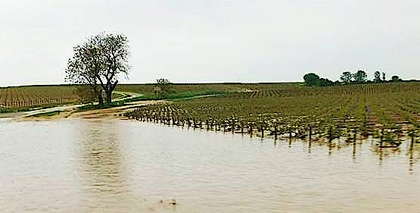 April frosts bring May floods?
Weather at harvest used to be dicey with rains. But now severe and unusual weather events are buffeting the Burgundy region throughout the growing season with shocking and disheartening regularity. Devastating hail storms pounded vintages 2012, 2013, and 2014.
Last month, there was some bitterly cold weather overnight on April 27, which led to frost damage. By the BIVB's estimates, 46% of vineyards in the region were badly damaged. Jasper Morris, the Burgundy Director at London's Berry Bros & Rudd, wrote about the frost damage on his blog:
The Beaune vineyard I partly own, Les Pertuisots, seems to have lost everything, as do neighbouring plots, while a few yards down the road the Clos des Mouches was much less affected, according to the Drouhins. There is no rhyme nor reason, and even vineyards which have not been affected in living memory, such as Le Montrachet, have been badly damaged this time round.
Bill Nanson writes this week on his blog:
Honestly the vines are 'all over the place' you can really see the lack of consistency when you walk in the vineyards; there are big sprouts of growth here-and-there, surrounded by a much smaller average growth of leaves. The first, larger shoots, are those who survived the frost, the latter is the new growth (recovery) from the previously dormant buds. I've never seen such higgledy-piggledy growth in the vines.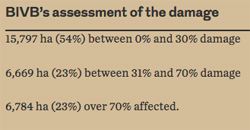 And then there is flooding and hail this week in Chablis, as seen in the photo above with more on Bill's blog.
What does all this mean for the region? Well, a final judgement of the Burgundy 2016 vintage will be best rendered when tasting the wine in the glass–quality has been snatched from the jaws of defeat in several recent, difficult vintages. But it certainly looks as if yields will be down with the resulting wine volumes, which, of course, means…higher prices for consumers and possibly declining revenues for producers.
Some producers have recognized this double whammy and made long-term plans to diversify, buying properties in lower cost areas such as the Jura or some cru Beajolais.
Burgundy…a wine that can bring so much pleasure yet also so much pain–on consumers' wallets and producers' balance sheets.