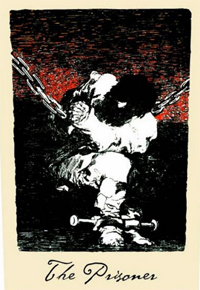 Word came out today that Constellation wines is buying The Prisoner wine(s) for a whopping $285 million. The seller was Agustin Huneeus who bought The Prisoner wine for $40 million in 2010.
And who said there's no money in wine?
The Prisoner wine was started in 1998 by Orrin Swift and Dave Phinney as heady red blend. The wine became popular but I always find it too intense–a cold wine, if you will, because if you have a cold, the oopmh from this zinfandel-based blend varieties and 14+% alcohol will still penetrate your congested sinuses. But there's no arguing with the market, where the wine sells for $35 and up. (find this wine at retail)
In 2010, Wine Spectator reported that Huneeus Vintners paid $40 million and production volume of The Prisoner was 70,000 cases. At the time, Agustin Huneeus, Jr. told Wine Spectator that in selling The Prisoner, Phinney "wanted someone with a larger sales organization and someone with experience with big brands, and I have that." Saldo is one of five other labels included in the sale.
Agustin Huneeus, Sr, now 82, has had a career spanning several continents and bulk wine as well as boutique. He started out at Concha y Toro in his native Chile, then worked for Seagram, ultimately landing in California in 1977. In 1985, became partner/president at Franciscan Estates. He sold that to…wait for it…Constellation Brands in 1999 but retained a stake in one of their brands, Veramonte in Chile (later buying it outright). Huneeus Vintners now has many holdings in North America including Quintessa, which they founded in the Rutherford District of Napa Valley in 1990. They also own Faust and Illumination from Napa Valley and have a majority stake in Flowers Vineyards.
Last year, Constellation bought Meiomi for $315 million from Joe Wagner, then 33 years old and whose family is best known for Caymus and Conundrum.
Remember in the 90s tech scene, the game was to make start up and then be bought out by Microsoft? In the wine world now, I guess is it the similar, except sell to Constellation?
In separate news, Constellation reported earnings that delighted Wall Street with wine sales up 7% to $737.2 million in the most recent quarter. So the plan seems to be working for all parties.