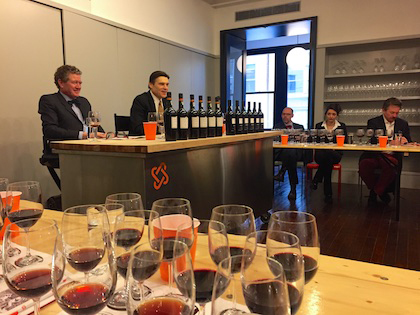 Who cares about port? I scale waist-high snow mounds and leap slush puddles to attend a tasting of Noval ports yesterday. It was well worth it. Christian Seely (left) with Michael Quinttus of Vintus, who imports the wines.
Christian Seely, the erudite and affable managing director of Quinta do Noval since 1993 (and head of AXA Millesimes), flew into New York to lead a tasting at the new tasting spot, Journée. Available for the assembled scribes were three incredible groups of wines: Colheitas, vintage, and the Nacional, a vintage bottling from a select parcel of old, ungrafted vines that almost always makes the most coveted wines from Noval and from the region. The Quinta
celebrated its 300th anniversary last year, so all the more reason to break out some old stuff.
Seely underscored the importance of terroir to the wines since, unlike most other houses, Noval sources their fruit exclusively from their 143 ha (357 acres) of sloping vineyards on the banks of the Douro River. The soil type is largely the same–schist varying from gray to brownish–but the elevations vary, ranging from 150 meters (500 feet) to 450 meters in altitude. He says that while there is a house style in the top ports that is often linked to blending while at Noval there is a house style that is linked more firmly to the vineyard and the terroir can be tasted over the vintages.
We started with Colheita wines, which means vintage in Portuguese. But unlike "vintage" (in English) ports, Colheitas are from a single vintage but the aging occurs in barrel for (vintage ports, by contrast, do most of their aging in bottle). As such, they are more accessible at a younger age. Some of the port from the colheita barrels get bottled as such but some of it can get added to tawnies and some of it simply evaporates (about 1.5% a year). As Seely said, making colheita is not exactly the type of business proposal that would excite a bank manager since it has such long time frames.
Although he makes Colheitas ready to "pop and pour," he bottles them with a long cork, as with the vintage ports, so that consumers can continue aging them in the bottle. Another little known factoid about colheitas is that because they have more exposure to oxygen during the aging process, they are more robust after uncorking: Seely said that you can enjoy a colheita in largely the same condition for a couple of weeks after uncorking whereas a vintage port tends to go south after about 48 hours.
A key question for us was: what age makes a good Colheita? It depends what you want to do with it: drink it, or be fascinated by it. The sweet spot seems to be about 15-20 years. At this point, as with the 2003, 2000 and 1995 that we tasted, the wines have good complexity and spicy qualities but are not yet incredibly concentrated. As we reached farther back in time, the colheitas became darker in the glass, with a golden-green tinge at the rim, and much more intensity. The 1976, 1968 and 1937 were all in this category: fascinating, unctuous yet still spicy and something you want to sip and savor and talk about world events that were happening when the grapes were still on the vine.
Things were only just heating up at our tasting though as we had some revelatory comparisons. On the vintage side, 2011 was an absolute show-stopper, the wine of the day for me up to that point. (find this wine) While I usually find young vintage port to be an almost impenetrable blend of enamel-staining tannin, nostril-searing alcohol, and gobs of sweetness, the 2011 is big but incredibly balanced. Drink now or drink at any point in the rest of your life. If you can find it that is, since it was sold out long ago. The 2003 is approaching drinkability while the 2012 and 2013 both seem very solid but, for me, are in the impenetrable phase now.
A trio of Nacional vintages helped me focus on differences. The 2011 and the 2003 Nacional were both much more concentrated than their Vintage counterparts. The 2003 vintage is more drinkable now but the 2011 Nacional has tons of stuffing, all of it balanced. Really, really impressive. (find this wine) Seely said that the Nacional parcel has miserly yields with small berries, which contribute to its distinctiveness. He said that pouring the wine blind for people often results in guesses that the wine is 20 years younger than it actually is. I can believe it.
The 1967 thus was eye-opening. Since I don't have a ton of experience with older vintage port, it showed how the tightly wound younger vintages could unfurl. The wine has amazing integration and a complexity that could turn heads simply from the aromas of mocha, coffee, faint spice and tobacco. A silence came over the room. The wine was a good weight, not overly viscous, and on the palate, it was a sumptuous blend of all port characteristics. It's only January, but I've already had a contender for wine of the year in my book.