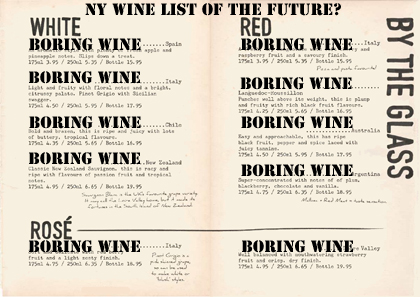 New York City is arguably the best place on the planet to be a wine consumer. A crucial contributing factor to this status is the abundance of wines available. While breadth of that bounty, from Assyrtiko to Xinomavro, and talented people making wise selections can be found in many places throughout the US, what really places New York at the apogee of the wine world is the depth of older vintage and rare wines available. These quicken the vinous pulse of the city and if you have not tried some, consider a splurge (while back-vintage Burgundies are pricey, it doesn't always cost an arm and a leg to uncork a time capsule from the Loire, Germany or Northern Italy). Whether these flow through shops as well as onto restaurant wine lists their source remains the same: private collections.
A new proposal threatens to restrict that flow. A proposal currently before the regulatory body for wine in New York aims to effectively shut down this trove of exciting wines. Private collectors would be barred from selling wines from five (for whites or rosés) to ten years (reds) from the vintage they were made. Moreover, they could not sell any wine within two years of purchasing it. Oh, and if you don't have the original purchase receipt then you can't resell it.
Recent changes in the way super high-end wines are allocated by NY wine distributors mean that shops and restaurants receive and ever-smaller amount of top wines. Thus buying some younger wines as well as older can help round out a wine list or a shop's offerings, making them the objects of a wine geek's eye.
Levi Dalton has a good piece on Eater about the effect of this on restaurants. Check it out.
Most other states prevent shops and restaurants from buying directly from consumers. So New York will still have wine even if this goes through. But it is a big step in the wrong direction; no wine consumer anywhere in America wants to see fewer choices in the marketplace.
What's particularly galling to consumers in New York is that there is no consumer representative on the working group that put together the proposal. (Full list follows below–note there are no retailers present either). And the new Chairman of the State Liquor Authority, Vincent Bradley, applauded Governor Cuomo for his selections. So make your voice heard by writing the SLA about private collections at: Secretarys.Office@sla.ny.gov January 14 is the next date for discussion.
Members of the industry workgroup include:
· Rose Mary Bailly, Executive Director, New York State Law Revision Commission
· Robert Bookman, Counsel, New York City Hospitality Alliance
· Jean Marie Cho, General Counsel at William Grant & Sons
· Keven Danow, Partner, Danow, McMullan & Panoff
· Lester Eber, Vice President, Southern Wine and Spirits
· Tom Edwards, President, New York State Liquor Store Association
· Ralph Erenzo, Founder and Master Distiller, Tuthilltown Spirits
· Steve Harris, President, New York State BeerWholesalersAssociation
· Noreen Healey, Counsel, Phillips Nizer
· Steve Hindy, Co-founder, Brooklyn Brewery
· Mark Koslowe, Managing Partner, Buchman Law Firm
· Nick Matt, Chairman & CEO, F.X. Matt Brewing Company
· Michael Rosen, President & CEO, Food Industry Alliance of New York State
· Ebenezer Smith, District Manager, Community Board 12, Manhattan
· Jim Trezise, President, New York Wine & Grape Foundation
· Scott Wexler, Executive Director, Empire State Restaurant & Tavern Association
Written comments about the SLA proposal to further regulate the sale of private collections must be forwarded on or before January 14, 2016 to: Secretary's Office, State Liquor Authority, 80 South Swan Street, Suite 900, Albany, NY 12210, or via electronic mail to Secretarys.Office@sla.ny.gov