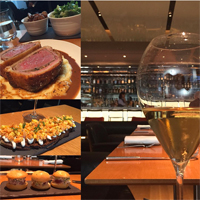 Danny Meyer's restaurants will phase out tipping next year. Simultaneously, they will raise prices 25% and remove the tip line from diners' checks.
"There will be one total, as if you were buying a sweater at Brooks Brothers," Danny Meyer told the New York Times. No more tipping at the coat check or the bar either.
It's part of a growing trend across the country at both high-end restaurants and low. The Times piece presents reasons to eliminate tipping include simplicity for the diner (Brooks Brothers sweater) as well as being able to better pay kitchen staff (federal labor laws prevent pooled tips from being shared with the kitchen staff). Union Square Hospitality Group, headed by Meyer, employs 1,800 people and serves about 50,000 meals a week.
What do you think? Many people find America's tipping culture irksome while others say that it is the basis of superb service.
One thing is for sure: the already high prices of wine in restaurants is going up. If you order a $100 bottle of wine at a Danny Meyer restaurant today, you pay $115-$120 after tip. Post-reform, that wine will be $125. Is that going to prevent you from ordering that bottle of wine? Probably not. But it is more than you paid before.
Marvin Shanken probably does not like this news. The publisher of Wine Spectator set off a firestorm in 2006 when he tackled the subject. In discussing a wine-drenched meal in which there was $300 of food ordered and $1,200 of wine, he suggested tipping 20% on the food portion and 7.5% on the wine for a total tip of $150. Under the new USHG policy of including a service fee, the bill for that meal would be $375 higher.
Whether eliminating tipping and raising prices will crimp high-end wine sales remains to be seen. I doubt that the total spend will be that different, frankly. But there may be some "trading down" in some categories, especially as diners adjust to the higher sticker prices. And it would be interesting to know how this will affect sommelier compensation; perhaps this will remove a (perceived?) incentive to steer diners toward higher priced wines and foster greater trust between sommelier and diner.