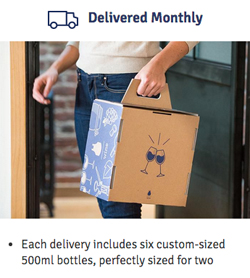 Another day, another company that wants to deliver wine to your home!
Today, it's Blue Apron who is adding wine delivery. The Brooklyn startup offers "fresh ingredients, great recipes delivered weekly to your home." Although I haven't tried it, lots of people have since the company says they deliver three million meals-in-a-box per month now. Started in 2012, the company closed a $150 million round of funding at a $2 billion valuation.
They have just announced that wine will now be able to be delivered with the ingredient boxes. Sounds great! But which wines? They are mum on that. The only option is to sign up for the $65.99 monthly sampler, which includes six bottles. There's a catch: the bottles are only 500ml, or two-thirds the size of a regular bottle. This unusual size means that they are not buying wines off the shelf but rather having a (domestic?) winery source the wine and put it in their unusual bottle size.
This particular arrangement could be a good thing–it could reduce prices to the consumer by some form of buying directly from wineries. But without knowing any producers going into the subscription, I'd be leery. Once bitten, twice shy–good thing you can cancel any time. An email to Blue Apron seeking further clarification of sourcing and how they are navigating the regulatory red tape was not returned.
But wait: The story is not over! In their piece on the news, Reuters quotes the Blue Apron CEO, Matt Salzberg, as saying "We think because we already have our large customer base already cooking meals with us on a regular weeknight basis, over time we can be the largest wine e-commerce company in the country."
Wine e-commerce is mostly a snarl of red tape, and most companies in the space are private so it is hard to get information on revenues. Wine.com's CEO posted that they had $75 million in sales in 2013. Further, Amazon is testing wine delivery in several markets and they are a formidable competitor in any area. Fresh Direct sells and delivers wines now. Some wine stores do tens of millions of dollars of e-commerce business. So Salzberg must have had a double shot of ambition in his coffee this morning to think Blue Apron wine is going from $0 to $75 million+ with (possibly) unknown wines in 500ml bottles!
Have you gotten wines from them? If so, how are they? Hit the comments!