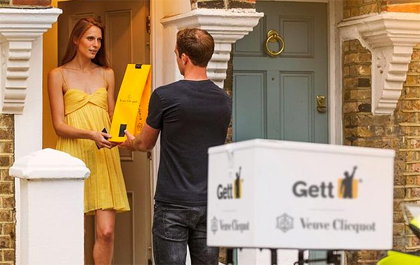 Have you ever urgently needed a bottle of Champagne? How about one delivered to you in 10 minutes?
Well, for all your romantic, corporate celebration, and dinner party needs, if you live in London, you are in luck. And, in a surprise, there are no drones involved! Gett, a ride hailing app service, is debuting the Champagne delivery within a limited part of London and only one brand of bubbles–Veuve Clicquot yellow label. The price is £50 ($75), apparently not that much of a markup over retail but still overpriced for mediocre champagne, and it does include two flutes. Interestingly, Gett will be using cabbies-in-training (who are studying for the notoriously difficult exam that black cab drivers must pass in London) to perform the deliveries on scooters.
The only crucial question: will it be chilled but not shaken?
Could this come to the US? It's possible but it would vary by location since different municipalities have different rules and regs governing the sale of alcohol. But where there's a will, there's possibly a way!
HT Business Insider
Photo: Gett