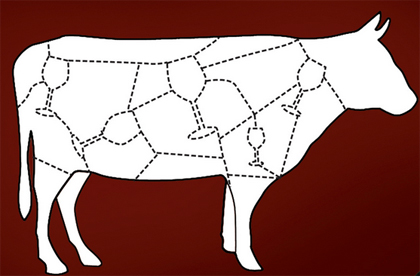 Canada has a beef with the US. They're pawing the ground and seeing red. Red wine, that is.
Such a dispute is rare for the two NAFTA countries that share the longest undefended border in the world.
The meat of the matter is, well, meat. Canada–and Mexico–complained last year to the World Trade Organization that US regulations were burdensome and discriminatory. The regs require that certain cuts of meat state on the label where the meat was raised (they are known as "country of origin labeling," or COOL in the language of trade negotiators). They won last year and the US, as is our wont, appealed. Yesterday, the WTO ruled against the US.
This is where the wine comes in: if the US still doesn't drop the labeling requirements, Canada will levy retaliatory tariffs! And they will be putting US wine in the bull's eye of their targets! (Oh, and other things like potatoes, chickens and car parts.) Apparently, US wine sales in Canada amount to $1 billion retail according to one commentator–but given Canadian wine retail markups, that probably amounts to $200 million from US wineries. Still, the wine producers represented by the Wine Institute are fighting mad.
"In Canada it has taken decades to build the market for U.S. wine, and it could be irreparably harmed in an instant if Congress does not act [to repeal or amend COOL]," Robert P. Koch, president and CEO of the Wine Institute said in a press statement. Oh. Congress. Good luck with that.
Related on wine tariffs: "Shoppers Could Soon Have Difficulty Finding Meat's Origin" [nytimes]
"Trade fight could raise tariffs on California wine" [pressdemocrat]
Appellate Body issues report on "United States — Country of origin labelling requirements" [WTO]