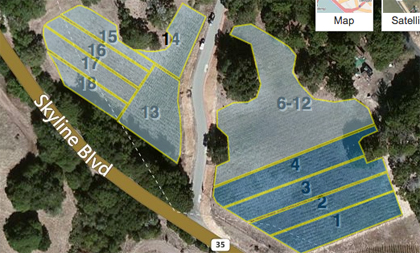 Have you ever wanted to check out exactly where your favorite domestic wines come from? You can take a look at aerial photos (exciting–grapes!), see block-by-block vineyard maps and get tons of geek-out info about vineyards on the site everyvine.com. Seriously, you can now impress your friends with not only the precise location, grape varieties, and topography, but also the growing degree days vs. the biologically effective growing degree days–oh my, you will be the life of the party!
I searched Rhys Skyline vineyard and found that everyvine even rates vineyards top vineyards with gold, silver and bronze medals–except for Skyline, which they rate platinum! Their algorithms even rate vineyard blocks. They don't have every vineyard in America in there and I haven't done a thorough analysis of how their rankings stack up. But it looks impressive and like something you could really get lost in for a few hours.
I read about it today in a post on Wired.com.