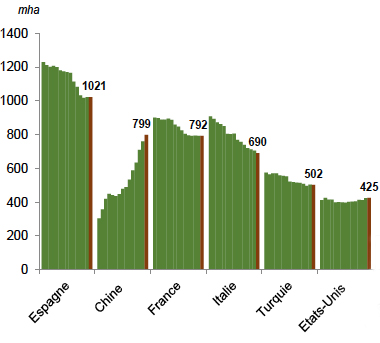 More acres of grapes are now in China than France. The total vineyard area in China is 1.97 million acres (799,000 hectares) according to new stats presented yesterday in Paris by the OIV, the International Office of Vine and Wine.
Although vineyard area includes grapes for both winemaking (what we're interested in) and table grapes (those can be good too), the rise of plantings in China over the past 14 years is staggering. Vineyard area in the EU is part of the Common Market Program and is governed by EU agricultural policy, which has been moving to reduce marginal vineyards through a policy known as "grubbing up" and limiting new plantings through a zero-sum formula of planting rights. Unhindered by such policies and with wine consumption rising, China's vineyards were bound to overtake key EU countries one day. So far, however, it is in quantity only. Oh, this headline caught my eye the other day: "The head of China's biggest wine brand admits its wines are terrible."
The US remains the world's largest wine consuming country. Check out our interactive chart below–be sure to click to see whether each market is growing or shrinking!
Data from OIV