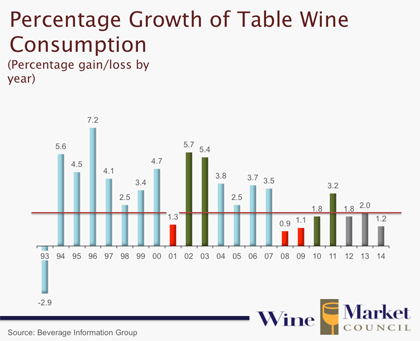 When wine consumption shot higher in 1994, little did wine consumers know that they were uncorking one of the greatest bull markets in recent history. Every year since then, wine consumption has grown making the wine boom now 21 years old–old enough to buy itself a drink, legally, were it a human.
But the growth, which slowed in the wake of the recession, has lost steam but continued to edge higher. Last week in New York City, John Gillespie of the Wine Market Council, a non-profit trade association whose mission is to grow the wine market, presented data on the latest trends. From 1994 – 2007, only one year had less than 2% growth, the recession year of 2001. But since the Great Recession starting in 2008, although every year has seen growth, the growth has been slower with only one year exceeding 2%. Why is growth slowing and what does it portend?
These were the main questions behind the presentations. Growth is slowing because of the rise of craft beer (not exactly hard to see coming), but also, Danny Brager of Nielsen said, because some consumers are trading up, drinking less but more expensive wine. Brager also pointed out that beer consumption is in secular decline having fallen from 60% of the market share of alcoholic beverages in the US in 2000 to 52% last year–and much of the rise of craft beer is at the expense of big, boring beer. He also said that of the 125 packaged goods that Nielsen tracks, growth is sluggish across the board, so wine is outerforming 90% of them.
As to the future, John Gillespie wondered if the wine market is at a tipping point, which could spark a return to strong growth, or a turning point, which would point downward. While he didn't come down on either side, the sinister organ music playing in the background, releasing a murder of crows into the auditorium and eerie sound of a creaking door slamming all led to a general impression. (Ed. note–dramatization.) We shall see what happens over the next year but if I had to guess, I'd predict more of the same slow growth.
Of course, the best way to really boost consumption would be to lower prices. And the only way that would happen is a legal change, such as eliminating the mandatory three-tier system and its layers of markups. Chance of that happening: infinitesimal.
See more stats from the presentations over on my Twitter feed.