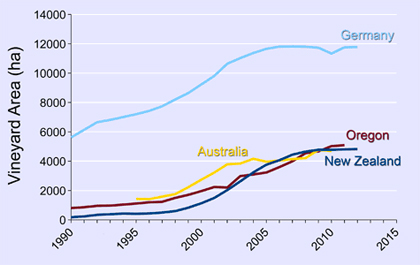 Germany has the third largest amount of pinot noir planted, trailing only France and the United States. In fact their total acreage eclipses both Australia and New Zealand's pinot noir plantings combined. (The local name for the grape is Spätburgunder.)
Such is a factoid that I learned yesterday at ProWein, the annual wine trade megashow in Düsseldorf. The seminar was entitled "Germany's Pinot Noir Miracle," which probably could have been an awesome German compound word "Spätburgunderwunder" if it only existed. Anne Krebiehl, originally from Baden and now living in England led the session in full cry. "If you cut me, I will probably bleed Spätburgunder," she said pinning her colors to the mast early.
She pointed out that Beaune is at 47 degrees north of the equator and the German plantings like 48-51 degrees north. This should leave them well positioned for climate change. Many of the German plantings are also on limestone, similar to Burgundy.
While monks planted pinot noir as far back as the year 1234, she said, the bulk of the plantings in the 20th century were the high-yielding clone 52-86. The German wine research facility at Geisenheim was late to research pinot noir, she said, because of their focus on Riesling and white varieties. But when they turned their focus reds, they developed a clone of pinot noir that incorporated rot resistance with a loose cluster of small berries. This has only been available for planting since 1999 so these plantings are not widespread yet.
We tasted some pinot noirs that had received awards and recognition. At least a couple f them had big whacks of oak. Krebiehl declaring that "the German love affair with oak is now over."
"Many producers are shifting to use wine not as a flavor element but as a textural element," she added. Some German pinot noir producers are taking a page from the Burgundy playbook and using German oak for their barrels, chopping down trees from nearby forests and seasoning the staves locally before sending them to the cooper.
She also pointed out that a new generation of winemakers have traveled widely, working vintages in New Zealand, Oregon, California and Burgundy. This globetrotting has brought back more sensibilities about pinot noir and its various styles.
"Germany has joined the pinot pantheon," Krebiehl triumphantly concluded her talk. Food for thought. I, for one, would like to taste more Spätburgunder before rendering my own judgment.