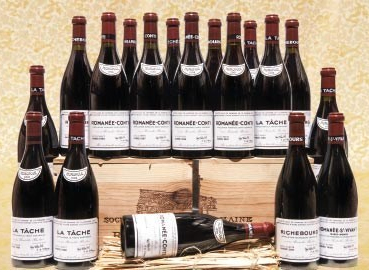 Wine auctions around the world ticked higher in 2014. But auction hammers were coming down the fastest in the US, which surged 26 percent according to data aggregated by Wine Spectator.
They report that global wine auctions halted two years of declines to grow at a 4.5% rate to $352 million; the US accounted for $159 million, up from $126 million last year. Globally, Hong Kong sagged 7% while UK and Europe slumped 26%. Hong Kong retains the crown though as it bested NYC with $104 million in sales vs $84 million for New York. In the US, Hart Davis Hart in Chicago was the leader with $42.8 million in sales but Wally's, a newish entrant, saw strong growth rising to third in the US thanks to the consignment from collector Roy Welland, which fetched about $11 million.
Online auctions tallied up $46 million in sales with winebid.com the leader. Despite occurring in the US, these do not figure in the US auction total as compiled by Wine Spectator.
Sotheby's was the wine auctions 2014 leader with $65 million in sales worldwide. Click here to see the handy table from WS in PDF.
Representatives from several auction houses commented that Burgundy had displaced Bordeaux as the top wine. DRC led the way but Domaine Leflaive, Rousseau, Comte de Vogüé, and Louis Jadot were among the Burgundy producers seeing significant volume.
As a Burgundy enthusiast, I lament the rise in interest of the region's wines since there is relatively little wine to go around. We'll see if auction interest ticks up for village wines given the low harvests in the region the past few vintages. Probably not, but the prices will undoubtedly escalate at shops anyway as others clamor for a taste of the precious pinot and chardonnay. For 2015, it will be interesting to see if the US remains the top market given the strong dollar. Probably.
On a related note, for the two major auction houses, Christie's and Sotheby's, wine is a mere canapé for the main course of art and collectibles. Driven by art pieces, Christie's global sales rose 12% to $7.7 billion while Sotheby's grew 18% to $6 billion according to Bloomberg. Christie's is a unit of Artemis, owned by French billionaire Francois Pinault (who also owns Chateau Latour in Bordeaux, Domaine d'Eugenie in Burgundy, and Araujo in Napa). Sotheby's trades on the NYSE with the ticker BID.