Sanctions and the declining price of oil have slowed Russia's economy, which is forecast to fall into recession next year. (A real bear market–rimshot.) And, in a nasty triple whammy, the ruble has declined precipitously as well, which is forcing up the price of imports. Consider the case of Apple, which just boosted the price of iPhones for sale in Russia by 25%. (But, apparently, even some, erm, domestic industries have also been compelled raise prices).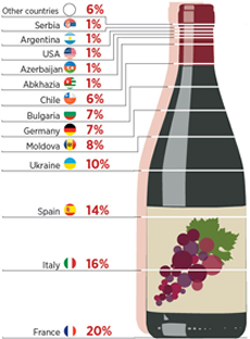 So what about wine? President Vladimir Putin has banned some food imports in retaliation for Western sanctions imposed over the Ukraine crisis. Notably, foreign wine and spirits weren't on the banned list as they are (were?) popular with middle class Russians despite high taxes and markups. But Putin has wielded wine tariffs as a cudgel before against Moldova and Georgia so it may just be a matter of time until wine tariffs arrive too. In any event, the slowdown and inflation have put many imported wines out of reach.
In 2012, according to OIV, the International Wine office, Russia was the ninth largest importer in the world by value bringing in 911 million euros of wine. And they were growing at 11% reaching 7.9 liters per person (compare that with 9.1 liters per person in the US, using the OIV data for 2011). But with the current malaise, those numbers are likely to fall off a cliff. Which is too bad because in the Jeffersonian ideal, wine is a drink of moderation and the antidote to spirits and, perhaps in this case, an attractive alternative to bare-chested vodka drinking.
Which countries have the most at stake in the Russian wine market? Thanks to this handy graphic from the folks at RBTH.com, we know that French wines dominated Russian wine imports in 2012 with 20% market share but Italian wines are catching up as moscato has gained in popularity. Spain is third. The US had a 1.37% market share.