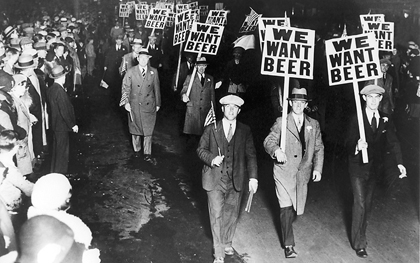 Here's today's bit of wine law crazee: back in June, the Sacramento Visitor and Convention Center tweeted a link to a local supermarket's annual consumer tasting, which has over 300 local wineries (and many breweries) pouring their wares. One participating winery's account on Twitter retweeted that tweet. And now, they are getting rapped on the knuckles by the Cal ABC, the state's liquor regulatory authority.
A chill has since frozen the fingers tapping out winery tweets across the Golden State. If a winery's license could be jeopardized by a generic retweet to a huge tasting, wineries may fear what right to freedom of speech they have.
For context, let's venture back in time. Before Prohibition, brewers frequently owned or controlled some saloons, forcing them to pour and promote only their beers. After Prohibition, laws came into effect to prevent even a whiff of vertical integration–alcohol producers were not even allowed to "induce" retailers or restaurants into pouring their wares with free anything, including advertising. (These laws were called "tied-house laws" and there is a federal version as well as some differing state versions; see a discussion of the variations over on Lex Vini.)
The present situation is clearly ridiculous. There may be a case for preventing outright vertical integration (although one might wonder, does alcohol really merit special treatment?), but the protocols especially in the era of social media seem ridiculously out of date. There may even be a case for preventing enormous alcohol suppliers leaning on shops to the detriment of their competitors. But small wineries tweeting about their events at retailers, especially ones with 300 total wineries?
Yikes. California authorities need to promptly sort this situation to conform to the modern day. Here's a quick fix: allow small wineries and brewers to tweet and email links to retailers. By virtue of their size, they could never strong arm retailers, let alone tweet the competition into submission.